Children's Animated Series Birds Eye View Takes Flight
Who doesn't love a bit of people watching?

New Zealand's native birds entertain themselves by observing the absurd behaviours of everyday human beings, & they've got a lot to say about it.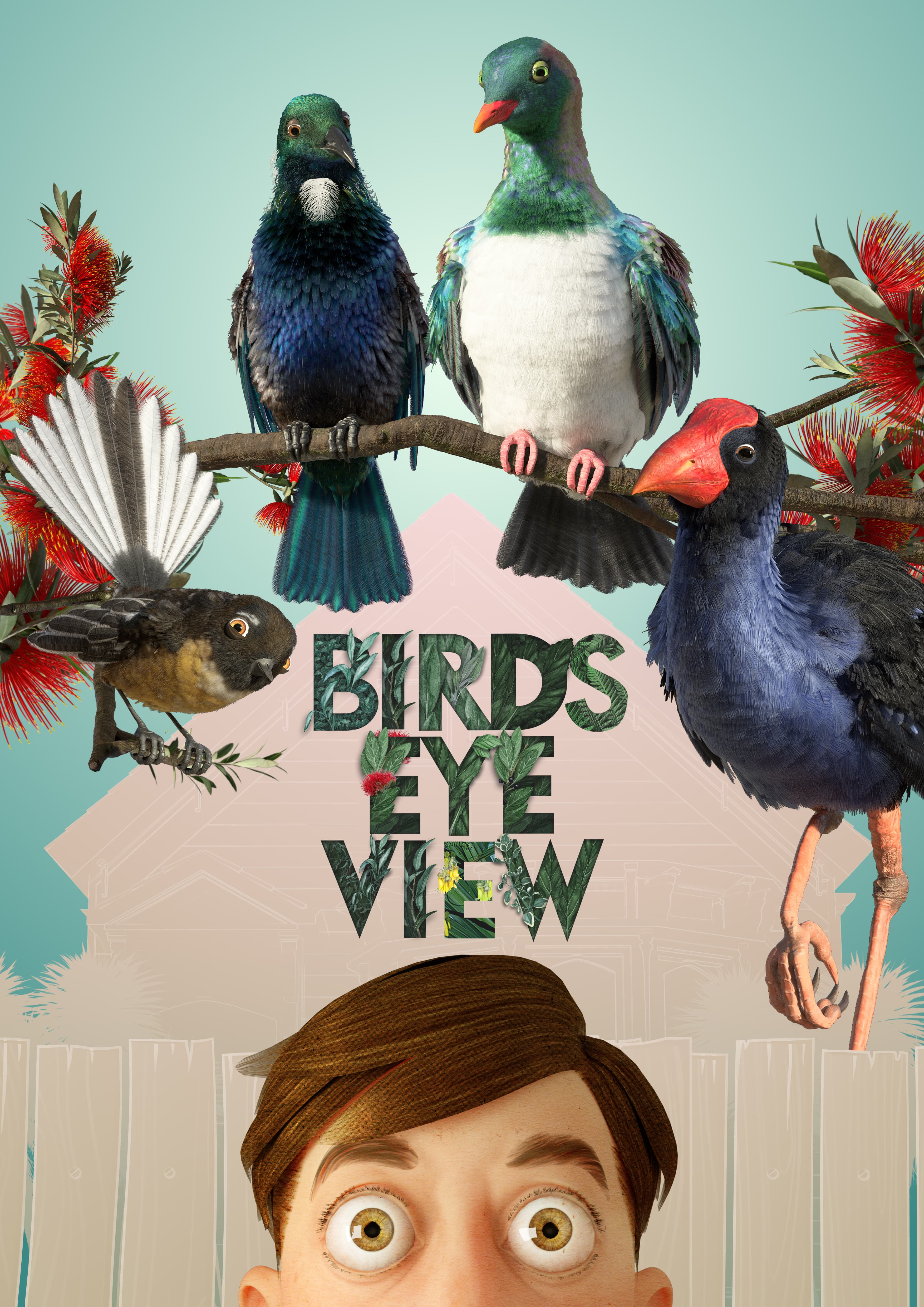 Meet Tūī (Millen Baird for Housebound (2014), Auckland Daze (2012) and Terry Teo (2016), Kererū (Kerry Warkia ), Pīwakawaka (Sweetshop & Green's very own Gemma Easton) Pūkeko, played by New Zealand's most loved music artist Stan Walker and Jail Bird (Andy Faulkner, Youngstown (2021), Wobble Palace (2018) and Jethica (2022).
These four feathered friends love to ponder and debate the weird and bizarre behaviours of humans in their natural habitat. Every day, they kōrero about all sorts of theories, trying to understand what these humans are getting up to. This misinterpretation leads to misguided attempts to put things right, which catapults them into adventure!
What may seem mundane and ordinary to us, is fascinating and confusing for our flock of friends. What on earth are the humans doing kicking a poor little egg back and forth on a field, whilst other humans watch on and cheer? How do the humans manage to break the sun into tiny little pieces and then control it with little switches on the walls at night-time? And where do the humans get these magic food disks that arrive at their doors just in time for dinner?! Holy heka!
These are the questions that plague our bird's minds, and they can all agree – the adults are the most absurd of all, they're porangi as!
BIRD'S EYE VIEW turns the table on the traditional concept of birdwatching. A fun way for the entire whānau to laugh at ourselves through the eyes of another species.
The series was produced with TVNZ's HEIHEI, Directed by Pete Circuitt and Jared Kahi, written by Nick Ward, Melanie Bracewell, Andrew Beattie and Te Waiarangi Ratana and in partnership with Studio Local. The series was made possible in Aotearoa with the support of the NZ Screen Production Grant and NZ ON Air. The Grant helps grow and sustain the screen sector, increasing New Zealand's visibility as an international screen production location and providing wider marketing and economic benefits.
Says Sharlene George, co-managing director of Sweetshop & Green: "There are some good things that come out of lockdown… and thanks to the clever peeps at Studio Local, we were able to bring to life our favourite NZ native birds, just being birds looking at humans, just being human."
Says Pete Circuitt, director: "It feels disingenuous to say it, but the whole cast and crew for BIRD'S EYE VIEW had such a good time making the show, and I think that shows in the work. Initially, the show was conceived within a lockdown paradigm. Humans were locked up and the birds were reclaiming urban areas. Flipping the narrative. This was happening. Animals were taking over the empty streets and waterways across the globe. Since lockdowns were thankfully finite, we rejigged the concept for a broader less catastrophic timeframe and I'm so glad we did.
"BIRD'S EYE VIEW has a lot of heart. It looks beautiful and for sure it was technically challenging. We hemorrhaged a heap of late nights to finish the show, but it was so much fun to make it almost hurt to finish season one.
"The characters are so great, and the writing feels warmly authentic, so you might believe some of BIRD'S EYE VIEW is what the birds might be thinking when observing our errant and ridiculous human behaviour."
Says Jared Kahi, director: "We are so lucky here in Aotearoa to have such unique, colourful and vocal native bird species that are so full of character and personality. They're just asking to be made into animated characters. As New Zealanders, how often have we all found ourselves being watched by a plump Kereru casually sitting on a branch overhead, noisily listening in on our conversation. I've always wondered 'What is going through their head?' What bizarre creatures humans must appear to be from the perspective of a bird? Now we know!"
BIRD'S EYE VIEW S1 premiered on HEIHEI (TVNZ OnDemand) on March 7th 2022 and then on TVNZ 2's The Feed in late May.
Directed by Pete Circuitt and Jared Kahi
Animated by: Studio Local