Filmmaking Wonder

COLIN

READ Joins Our International Roster
19 September 2023
Written by
LBB Online
The Sweetshop will now represent Colin Read in Asia, Australia, and New Zealand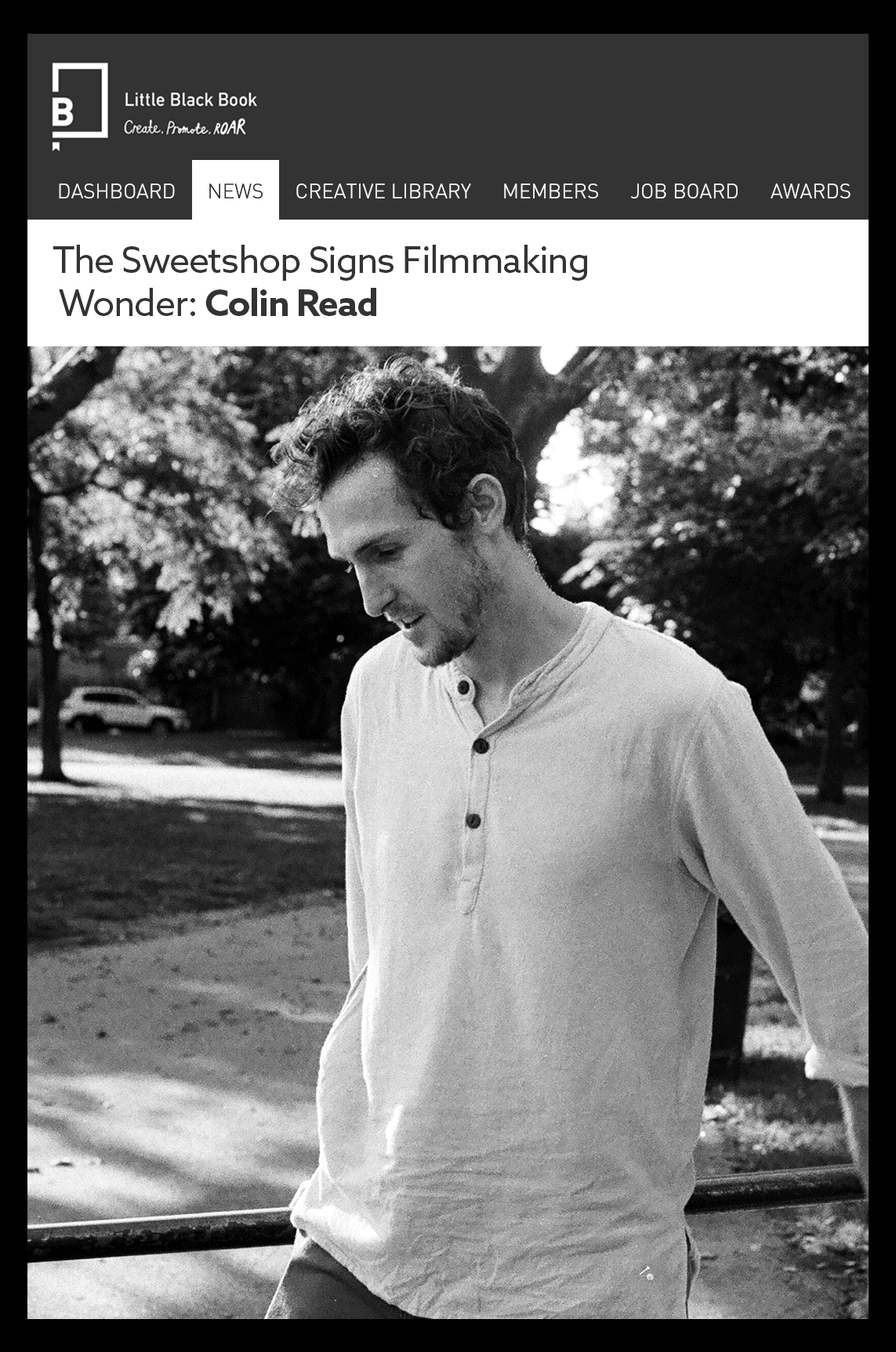 Colin Read has been signed by The Sweetshop who will now represent him in Asia, Australia, and New Zealand respectively. The acclaimed indie film director made a strong impression with his feature skate film, Tengu: God of Mischief, followed closely by the noteworthy Spirit Quest. Based in New York and a skateboarder himself, both films attest to the young director's uncanny ability to blend skateboarding technique into his camera skills, resulting in complex angles and law-defying motion shots.
"I love trying to make things I've never quite seen before," Colin said. "I'll get an idea in my head, & then carry it around until I get the opportunity to use it. The process of their creation is part of the fun for me."
From the start, Colin would concoct intricate and multi-dimensional camera techniques. When hitting the pavement with his board during childhood, he intuitively decided to bring a camera to capture his excursions. A feat not always easy to pull off. Colin said, "I tried out unique filming and editing techniques in order to bring something new to the form." These early accomplishments moulded him into the daring filmmaker he is today.
The team at The Sweetshop Asia is behind the recent addition to the international roster. "We stumbled across Colin's Instagram and were impressed with his work right off the bat. A timely reach out caught him checking his messages for the first time in weeks, and after a couple of get-to-know-you chats, we were sold on the possibilities of what we could achieve working together," said senior producer Jennifer Crabb.
"Colin's work has a perfect blend of street cool, edge and mature polish."
Edward Pontifex, managing director of The Sweetshop Australia also expresses excitement about seeing him 'bring his bag of tricks' to their market. "Colin is a highly accomplished director who has created some of the most brain-teasing spots, award-winning work for iconic brands (Burberry, Apple, Google) and legendary bands alike (Radiohead, Weezer, Doves)."
Amongst those is the recent Adobe-commissioned film "Hobby," which humorously focuses on the many pastimes one would take on during the Covid pandemic and lockdown. Awarded "Best of the Year" by Vimeo and entirely shot on an iPhone, Read naturally took mobile videography to its apotheoses.
Read has remained driven by the need to expand his craft. A jack of all trades, he's had quite an eclectic career, namely in cinematography, editing, motion graphics, copywriting, screenwriting, and, of course, directing. Equipped with an MFA in creative writing from NYU, the director leverages his unique narrative storytelling skills within the commercial space.
"I try to write my own projects whenever possible," Colin said. "I thoroughly enjoy collaborating with the agency or brand on the script so that it flows and functions in a way that both adheres to the wild concept I have in mind, and hits even harder."
In his feature Spirit Quest, Colin offered a fresh view of the urban artform with his split- screen transitions and resolution to chase fellow skaters like prey while somehow handling two cameras at the same time for unfathomable jump cuts, resulting in him taking home the Grand Prix Award at the Miami Film Festival. Always a challenge seeker, today Colin embraces the short form and its inevitable limitations,
"No matter how good a brief is, there's always a way to make it better, to make a script funnier or cut deeper emotionally. That's what my job is: to achieve the best possible version of the creative's original idea."
"I care deeply about 'personality match' and after speaking with The Sweetshop's team, I knew right away that I was at home. I'm excited to get over there and put my spin on some fun projects, with a great team of new friends."
This article was first published by LBB Online, 18 September 2023.