DIRECTOR INSIGHTS:
with Dorothy Allen-Pickard
15 August 2023
Written by
Directors | Now
Dorothy is a filmmaker from South-East London who recently completed an MA in Directing Fiction at Goldsmiths University.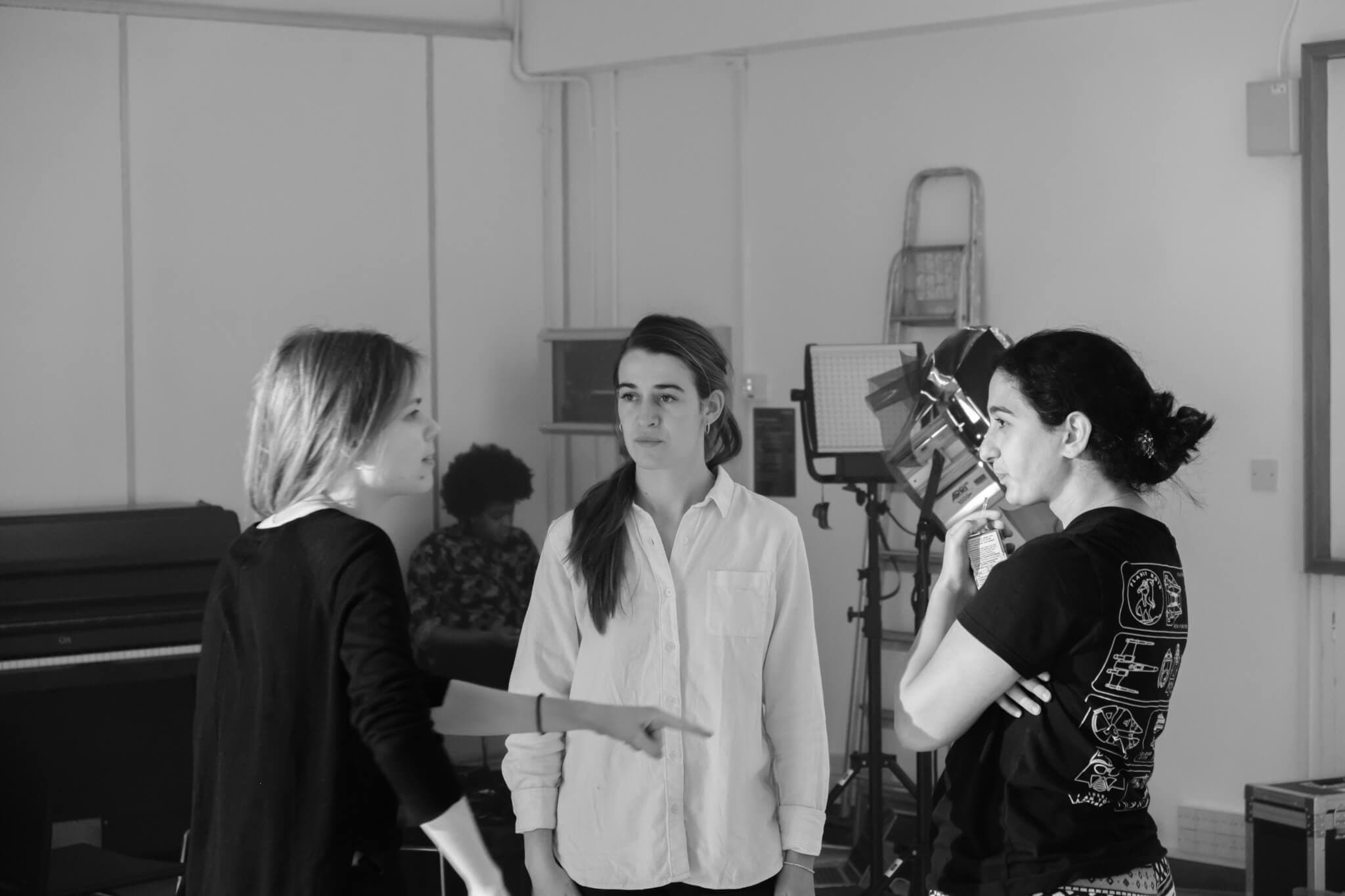 Dorothy Allen-Pickard started out making documentaries while studying French and Film at Warwick University, and won the Guardian Documentary Award for her first film In the Name of Greatness. While at Warwick, she co-directed the Fringe First multimedia show The Beanfield and became a member of Breach Theatre.
In 2019 Dorothy won Best UK New Director at BFI Future Film Festival and her short film The Mess was awarded with Best UK Short at Open City Doc Fest, Young Director's Award, Vimeo Staff Pick and was shortlisted for Grierson Short Award. Her films have screened at festivals including Sheffield Doc Fest, as well as on BBC3, Channel 4, i-D and The Guardian.
She has a particular interest in working with non-professional actors to create films that merge documentary and fiction
When did you know you wanted to be a director?
I actually remember sitting in a maths class, I must have been around fifteen-years-old, and I was trying to rationally deduce what I wanted to do with my life. I felt this pressure, a self-imposed pressure, to make a decision right there and then. I knew I was really interested in people and I wanted to collaborate with and be surrounded by creative types.
I was also interested in images & expressing myself through visuals. However, I felt like photography was too still an image, leaving almost too much to the imagination, & so I became interested in combining visuals with dialogue in order to represent human experiences.
So I rationally decided there and then, that filmmaking was probably a good career for me, as it combines people and a moving image.
From that point on if anyone asked me what I wanted to be I would always say I wanted to be a filmmaker. It wasn't until three or four years later that I picked up a camera and started teaching myself how to shoot and edit. I was at Warwick University at the time and I managed to borrow a camera from the film society. This was how I transitioned into actually making films. I remember that transition felt like an enormous barrier to cross, then when I actually did it, the rest came quite naturally. While crossing that barrier felt huge, if you have ideas and a keen interest in the people and subjects you want to explore, then the moment you do get going it all unravels and has this kind of snowball effect.
Once you knew you wanted to pursue a career as a director, what were your first steps in achieving this goal?
In the time between knowing I wanted to be a director and before I actually made any films I did lots of internships and jobs on set. For example, I worked as an intern on the Inbetweeners, and then I did an internship with Darren Aronoksy's production company for a month. I read lots of feature scripts and got some insight into how the industry operates, breaking down the many different stages in making a film.
I also watched lots of films and read about them, embarrassingly they were mainly films from the French New Wave which I don't think I could watch again. I was fortunate to grow up in London so I became a member of the ICA Student Forum and the BFI Future Film club. This meant I was surrounded by other film fans and we would often meet up to discuss films and watch shorts together.
When I was 18 I lived in Tangier for a year, working at the Cinematheque de Tanger. There I watched lots of incredible films from all over the world. Then one day the husband of the Cinematheque's director decided to make a short film and he needed assistance. I jumped at the chance to get involved and ended up helping out on all aspects of making the film. I was doing all sorts of jobs, from casting to script supervising, and ordering falafel wraps for 100 people. I suppose I was keen to throw myself into any opportunities available at that time.
What obstacles or setbacks did you face in becoming a director?
In terms of obstacles there are lots of different things that you have to overcome in order to navigate your way into the film industry and make films. One of them is the expense of filmmaking, both in terms of production and distribution, but also simply trying to pay your rent and sustain yourself, especially in London.
When you start discussing the financial element you realise that some people who make films maybe don't have to pay rent, or are living in more favourable circumstances. I think it's important to discuss how we sustain ourselves in an industry that often underpays younger creative talent, and expects them to carry out unpaid internships.
In terms of finding out about funding, I signed up to every film related newsletter that I could find, including Film London, BFI, Doc Society. I have applied to almost every single competition that I come across, even if the idea I'm pitching isn't yet fully formed. This has forced me to develop the idea further. Then six months later perhaps something else will crop up and by this point you've developed the idea and it's more likely to be picked up.
The way I've managed to sustain my work as a freelance filmmaker is mainly by self-shooting and editing. I've made lots of work for charities and brands, which have allowed me to practice my craft and experiment with ideas. So I think it's really useful to teach yourself the tricks of the trade, particularly how to shoot and edit. Recently I've been focusing on writing fictional scripts and again I'm keen to keep up the practice of writing each day, with the knowledge that these scripts won't all necessarily be made into a film.
Finally, finding the money to distribute short films can be a huge obstacle. I often write directly to festivals to ask for waivers and discounts; sometimes they're happy to help. There's no point spending lots of money sending your film to a festival that would never screen it as it's the wrong style for them. So you need to get a sense of the various styles and tastes of each festival. You can do this easily enough by looking through their programs online.
How did you develop your voice and hone your craft?
I think my interest in filmmaking stems from my interest in people. For me it's definitely a socially-engaged practice and the process of making a film should be as transformative for those involved in making it, as for the audiences who watch it. Almost always I begin with a subject or a person and then move on to exploring visual and technical possibilities.
I've always made films about people who I think have something interesting & important to say, people who should be heard & who inspire me.
I come from South-East London and a lot of my films are set around where I grew up and currently live. It's a fascinating place and in some ways I think it's even more of a challenge to make films about places you think you know well. You have to try to look at something familiar through a critical lens and work out what you know and what you may not know about it, and intimately explore your relationship with it. Through consistently making films that focus on subjects and people I care about deeply, I've come to more or less develop my filmmaking 'voice.'
Each time I make a film I question what have I not yet played around with? What could I invent that's new? I'm always thinking about finding a visual language to express the subject of a film, for example deaf people's experience of electronic music, or how a messy room relates to someone's experience of bipolar. I'm particularly committed to using film visuals to express things that are hard to describe, like mental health. In some ways my films are all completely different, but there is also a clear narrative thread which stems from feeling passionate about certain subjects.
After self-shooting and editing for several years I got to a point where I knew I wanted to explore fiction so I did a one year MA in Fiction Directing at Goldsmiths and was fortunate enough to get a part scholarship. It was a great accelerator in understanding how to make scripted features, working with actors and writing scripts, covering all the essentials, like the Three Act structure. Having taught myself to film in quite a DIY way, it felt like the right time to have a boost and learn filmmaking by the book. Finally, I also worked as a 1st, 2nd and 3rd A.D, just to get experience on set, though I've always tried to avoid production roles, as I find it consumes all of your time and energy and as a director you want to focus on the story and its characters.
How did you get your first break?
It's difficult to define what a first break is. At the end of last year I signed with an agent for Film and Television and at the beginning of 2020 I signed with a commercial agent, so in some ways that could be considered a 'break'. It's amazing to have agents who are committed to supporting you to make films and they know the industry much better than I do. But I don't know whether that's a 'break', as it feels more like a booster.
If I ever had a 'break' in filmmaking, I'd say it was with my short film The Mess. It was the most visually ambitious & experimental film I made about my friend's experience of bipolar, told through the mess in her room.
Objects fall around her in super slow motion as she discusses the cycles of her mental health. It was a very short film (four minutes) and it seemed to do really well online and in festivals. Following on from that I got some interest from commercial production companies and it helped secure an agent and act as proof of the kind of films I could make. However, while The Mess got the most attention, every other short film I made in the lead-up helped to give me the confidence to gradually upscale my work, collaborate with larger crews and come up with more technically ambitious ideas. There's nothing more valuable than just experimenting and testing things out and not being too precious with each project. This is how you achieve a real sense of confidence in your practice, through practice and experimentation. I think that's how you find your 'voice' and come to understand what resonates with others.
This article was originally published on Directors | Now.