Variety's

Anne Nichiolson says:
"Hosking Gives Rhythm to the Madness"
18 August 2023
Written by
Amy Nicholson for Variety
Big comedy stars enlisted in oddball Jim Hosking's follow-up to "The Greasy Strangler" — but audiences must have a high tolerance for kooks.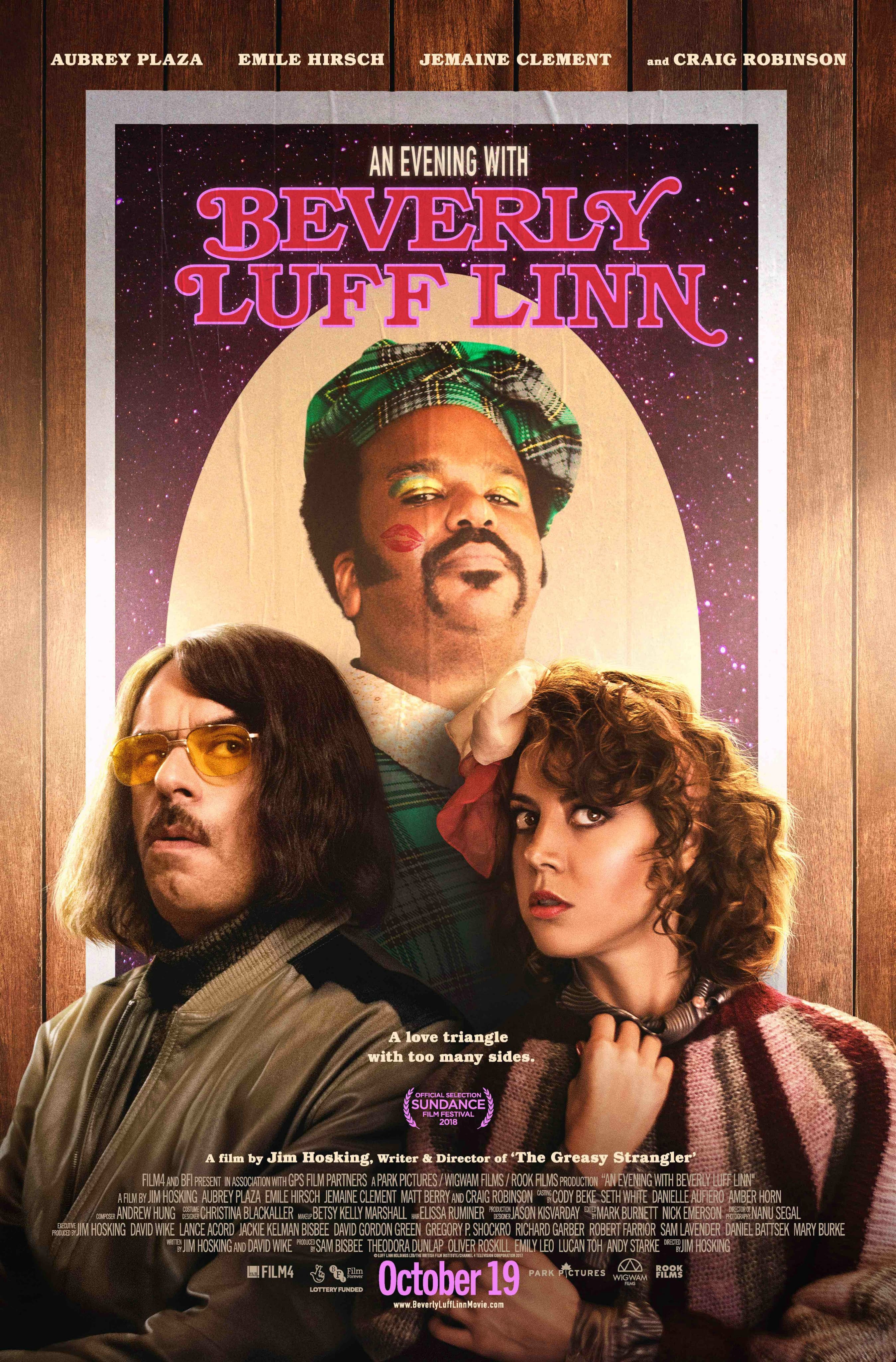 There's a lie in the title of Jim Hosking's "An Evening With Beverly Luff Linn." To see what mysterious magic Craig Robinson's non-verbal Beverly holds over his sold-out crowds, unhappy wife Lulu Danger (Aubrey Plaza) must spend several evenings at this strange small-town hotel dodging her husband Shane (Emile Hirsch) and the advances of a naïve gunman, Colin (Jemaine Clement), who's helped her run off with her brother Adjay's (Sam Dissanayake) cash. She's miserable, but whether audiences will enjoy the wait depends on their appreciation for Hosking's synthetic style where all the clothes are bad, all the characters are dingbats, and every scene is cluttered with snort-worthy absurdism.
Since his 2016 debut "The Greasy Strangler," Hosking has specialized in terrariums of kooks. His brain works methodically.
He's no sloppy absurdist throwing whatever at the screen to see what sticks.

Instead, Hosking gives rhythm to the madness.
In "Greasy Strangler," the backbeat was a repeated sequence where the Crisco-covered killer Big Ronnie strips nude and walks through a car wash. There's a glimpse of a wild-haired man who could be Big Ronnie in the back of the coffee shop where Lulu makes cappuccinos until her boss and spouse Shane fire her in favour of dimwits Carl (Sky Elobar) and Tyrone (Zach Cherry). But in a Hosking film, every character — even the extras — is at once bizarrely unique and part of a clan.
A Hosking character doesn't just walk into a room. They move like stop-motion figures covered in human skin. Nothing is natural. The film's been edited to make audiences off-balance. Either characters appear as soon as they've been summoned, or the camera holds as a conversation gets interrupted by a coughing fit — twice. And the eclectic musical backdrop veers from choral hymns to cold synths to retro ballads to thudding drums, each song fitting the exact scene they're in without worrying if it matches the rest.
Other tics include dialogue barked with the blunt gravity of NASA engineers averting disaster, and actors gamely making themselves as repellent as possible. If there's a nose that can be reddened or a bare chest that could bristle with hairs, it's on display. Hirsch's overbearing husband hunches his shoulders to look even shorter than 5-foot-7 and juts out his chin like a cartoon of Dick Tracy. Clement, no stranger to moth-eaten wigs, might make a living as a wandering brute, but when he tells Lulu he's a virgin, it's believable.
The exception is Plaza's Lulu, who looks like an '80s skate rink princess in her soft curls and mutton-chop sweaters. She's the first Hosking character treated with wall-to-wall empathy, and when she gazes at Robinson's barrel-chested mute in his Peter Pan collar, plaid Scottish breeches and pom-pom-topped Balmoral bonnet, Plaza is somehow channeling real love. From her heartsick wife, drops of recognizable human emotion trickle down to splash other characters, especially Clement's bumbling not-so-bad guy who can't catch a break.
Hosking has a vision, and more often that not, it works. Strip away the madness and the script, co-written with David Wike, is a standard riff on oddballs-on-the-run flicks like "True Romance." Except "Beverly Luff Linn" still doesn't function like a film that believes in arcs. It takes the shape of a tightrope stunt.
The thrill isn't whether characters will change, it's whether the actors will be able to sustain the humor.
Mostly, they do, though the energy slumps just before the climax. If Hosking isn't your tempo, you're probably in the majority. But those who delight in championing the next cult film leader will nod along with Clement when he grins, "Although I don't know what what's going on here, I'm having a great time."