Coffee, Camera, Action;

An Exclusive Look into the Director

SIMON

Cracknell
There is more than meets the eye when it comes to director Simon Cracknell. A self-described 'shy person', this man has some wild stories to tell.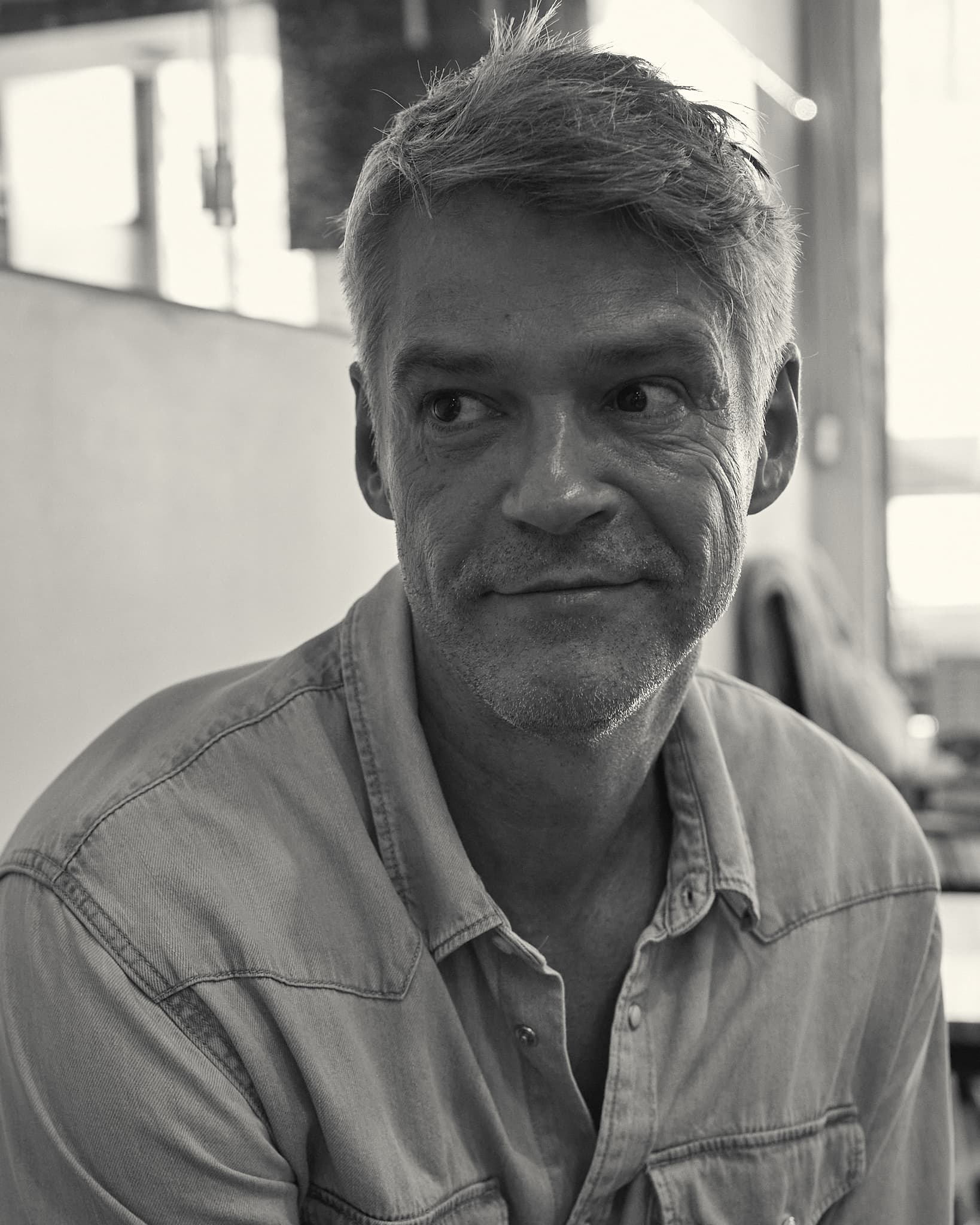 You really have to admire director Simon Cracknell's approach to life.
According to the man himself, he basically just wanders the world armed with a notepad, camera and a seemingly bottomless cup of coffee, noticing everything and staying open to the magic. But those of us who know and admire his work think he does a little more than that.
For over two decades, Simon has filmed in every corner of the globe and worked to great acclaim with world-famous brands like Coca-Cola, Nike and Pantene. He has been awarded at the likes of Cannes, D&AD and Adfest and is famed for performance-led, stylistic flourishes and a deft touch in deadpan humour with hints of delicious absurdity. His relaxed, engaging personality makes for happy, collaborative film sets and belies a zeal for capturing small details inside big moments.
"I guess I love the little stuff because to me, it's not little at all."
"It's what makes the world go round. A bit like Kathryn Bigelow (renowned filmmaker of Point Break and The Hurt Locker among others… and no, I'm not comparing myself to her). She makes a conscious choice not to get caught up in all the noise. So even when a scene is huge, she's interested in the people immersed in it. That's me too." 
It's a way of looking at things that has led Simon all around the world and into some incredible situations.
Like when he left the UK & went to live in a
Himalayan monastery
teaching English to monks, where he had the
revelatory experience
of meeting the
Dalai Lama.
The encounter inspired Simon to strike out into the world once more and connect with humanity in all its many shades, including war (he'd always wanted to be a war photographer). He breezily informed family and friends he was off to Africa to capture conflict on camera and they probably wouldn't hear from him for a year.
 So began days of traveling through desert sandstorms on the backs of lorries, traveling by foot with no water across the badlands between Kenya and Ethiopia, and even unzipping his tent one morning to be greeted by 20 naked tribesmen armed with spears and AK-47s.
Thankfully for all of us, Simon lived to tell the tale and a twist or two of fate later, he found himself directing TV commercials on major brands and winning awards across the UK, Europe, South Africa and Asia.
Fast forward a decade; Simon now lives in Bangkok and is a highly sought-after director for the entire region, famed for his ability to nail the subtle nuances of different cultures and entertain while he's at it. In fact, a favourite piece of audience feedback is for his much-loved Dettol TV spot - people say it feels like it was made by a local.  A little like his brilliant 'Huat Ahhh' campaign, acclaimed by Campaign Asia as "a welcome note of lightness for both DBS and the Chinese New Year season."
Putting 'funny' on screen can be nearly impossible for some, but Simon makes it look easy. He admits to being initially baffled by Asian humour with its big gestures and bright colour pops, but he has since discovered you can infuse a hint of deadpan into the Asian razzle-dazzle to a new and audience-pleasing effect.
The ability to stride the cultural divide really sets Simon apart sets. Maybe it's because he goes to any lengths to find relatable solutions. Or because he can represent many different people in one commercial but still let the original idea shine. Or perhaps life experience just taught him to choose his battles carefully.
Simon loves a client who is truly open to ideas - all directors do. He got that wish for the high-octane SHELL HELIX spot, where he was simply challenged to create action with a rawness that would leave the viewer feeling 'knocked around and even a little beaten up'. 
A golden opportunity with just a few strings attached: Production values needed to be high, the budget was limited, and they had to shoot in clear daylight during the middle of a rainy season. Not to mention the now familiar dance of satisfying various regions while ensuring the end result was single-minded, engagingly dramatic and emotionally driven.
 It brought out the
absolute best
in Simon. He created a stunning spot that
thrilled
the client & viewers alike. He got a stress rash too, but says
it was worth it.
A perennial student of his craft, Simon treats every new day as a chance to up his game and refine his skills, and he is always open to working wherever the wind blows him. He might stop somewhere for years, but it could all change tomorrow if an exciting opportunity comes along.
Those who know Simon say he

squeezes

every last drop out of life. He

relishes

all the moments big or small & notes

everything

down in a journal, usually while perched

in a street cafe with a coffee in hand.

His passion for exploring the world and other cultures has never waned and probably never will. Simon Cracknell is a heady mix of infectious enthusiasm and curiosity, detail and discipline, exceptional people skills and the spontaneity to leap into something new at any moment.

And he loves sunflowers.

What more could you want?