The Pacific Music Awards Are a Statement of Island Intent
18 October 2023
Written by
James Borrowdale for VICE
VICE caught up with Samson Rambo to talk us through the night, and why he believes General Fiyah, who also walked away with the awards for Best Pacific Song & the Vodafone People's Choice Award, will be at the vanguard of a new generation of Pacific artists to make mainstream inroads.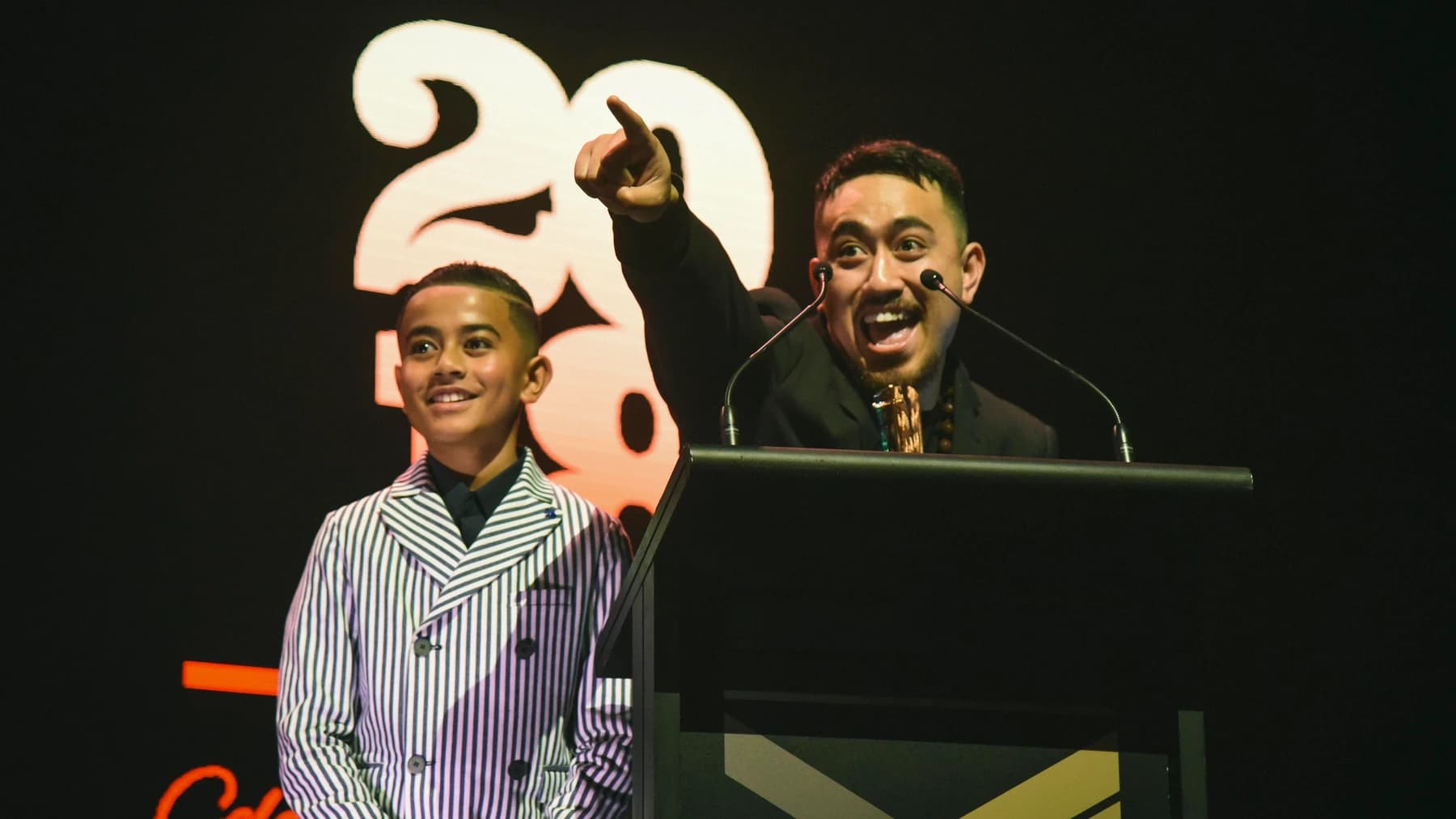 As filmmaker Samson Rambo points out, the Pacific contribution to New Zealand's representative rugby teams has long been celebrated. But the Pacific Music Awards winner—the video he directed for 12-year-old prodigy General Fiyah's 'Here to Stay' took out the Best Pacific Music Video—reckons that the recent confluence of the awards ceremony and Samoan Language Week indicates, perhaps, a wider acknowledgement of the contributions of the Pacific culture to wider New Zealand culture.

VICE: Talofa Sam. How did it feel to win on the night?
Samson: It was awesome. It was pretty overwhelming because a lot of things were happening. Just to get nominated was cool, because last year we got nominated but I had promised to General Fiyah that this year we were going to come back stronger and we were going to win and we're going to go collect these awards. He poured his heart and soul when it came to the performance so when we won he looked at me and he gave me a wink to suggest like, this guy actually followed through. I was like, 'Phew!'

What was the inspiration for the video?
I notice a lot of people kept comparing him to Michael Jackson so when it came to the concept when we were putting the ideas together I was looking back at some of that old retro stuff. We kind of just played with that, with that Michael Jackson concept and looked back at all that Jackson 5 stuff.

The line up on the night was really strong, and General Fiyah himself is so young, does that give you belief in the future of Pacific music?
I feel like it's only getting better. I grew up listening to Che Fu and King Kapisi, but the new generation have General Fiyah and a whole lot of up-and-coming artists that haven't been discovered yet picking up the torch. General Fiyah will be leading the way for the next wave of Pacific artists. Only time will tell, but it's only going to get better from here on out, which is really exciting for me and the next wave as well.


The awards were last week, and it's now Samoan Language Week. Do you think there's a growing acknowledgement in wider Aotearoa of the importance of what our Pacific cousins bring to our culture?
Yeah, I mean, on the sports side they do really well, contributing a lot to like the All Blacks and all that stuff. I remember I was doing a shoot with Tony Fuemana, and he's one of the OGs that started the Pacific Music Awards. My question was like, why'd you do it? And he said they just wanted to acknowledge our Pacific artists. And with Samoan Language Week, I was just out at a primary school filming cutaways and stuff and I saw kids in other cultures talking to me in Samoan. I was like, 'Whaaat? This is pretty cool.' And New Zealand is only going to get more multicultural be celebrating everyone's language week. Better days.
This article was originally published for VICE, 1 June, 2018.