ARTICLE
Cyclone Gabrielle
'Lost and Found'
15 August 2023
Written by
RNZ - Produced for RNZ & NZME by Monsoon Pictures International | Made with the Support of NZ On Air
Lost and Found is an emotive, visually arresting short film made by Muriwai local and filmmaker Zoe McIntosh, exploring what objects seven residents, each in a state of flux and change, took with them in the midst of the cyclone and how the disaster has made them re-evaluate all the possessions in their lives.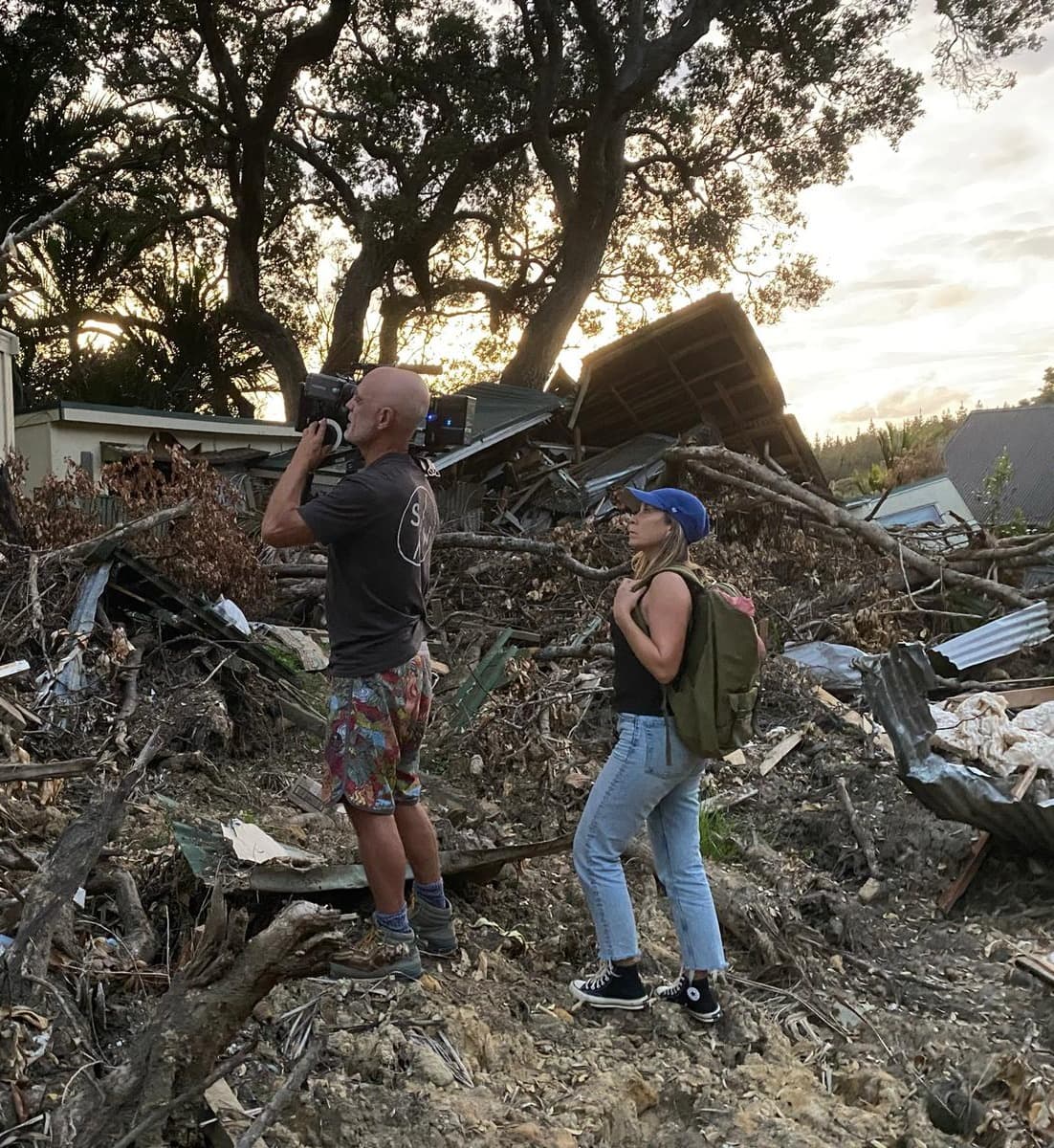 As they fled their homes during the full fury of Cyclone Gabrielle, six Muriwai residents were forced to choose what to take with them.
All six knew their houses might not be standing when they returned.
Caroline Bell-Booth took her teddy bear.
Eddie Wood took his head torch, phone, PJs, and a raincoat.
Shanan Healy took his guitar and $2000 cash.
Bev Wolshack took her wedding ring.
Odile Smits took a wooden spatula.
Haidee Rēnata took her kids
Filmmaker, Muriwai resident and firefighter Zoe McIntosh said she wanted something simple and tangible to talk about with the six residents during such a stressful and upsetting time.
"I didn't want to dredge up all of these awful feelings for them," she said. "These small objects allow intimate conversations to happen."
Her film Lost and Found tells the story of what the six Muriwai residents took with them during one of the worst storms to hit the region in the past century, and how it allowed them to reflect on what is meaningful in their lives.
Cyclone Gabrielle caused extensive damage to the beach settlement on Auckland's west coast. Hundreds of residents are still waiting to return home or will never be able to return to their old houses.
Director, Zoe Mcintosh and Cinematographer, Ian McCarrollDirector, Zoe Mcintosh and Cinematographer, Ian McCarroll Photo: Mike Davison
In her own words - Lost and Found director Zoe McIntosh
Where to start? It's been a whirlwind of a month. I was a volunteer firefighter during the night of the cyclone, in Muriwai. The same night our brigade lost two firefighters- Dave van Zwanenberg and Craig Stevens.
I have never ever experienced anything like that night in my life. It will be with me forever.
When I was asked to be a part of this film series, admittedly I was reluctant. I was suffering pretty chronic PTSD, insomnia, grief and looking for temporary accommodation (as our home was red stickered).
As I lay in bed with insomnia, my mind desperately tried to make sense of the loss. The 'what ifs and the whys' were persistent and plaguing. I began to reevaluate my connection to my house, possessions and place. Let's just say I cooked my head lol! These witching hour ponderings inspired me to connect with my community to search for these answers.
The next day I borrowed a friend's sound recorder and was off… I focused on people who had lost their homes and was curious about precious object/s that they took. How were they processing such an enormous loss and the uncertainty that comes with that loss?
My approach was to interview them individually with audio only. Keep the fuss of cameras away. The result is a conversational and intimate tone. I later coloured in the imagery to support the voices.
It's always a challenge as a director to tell a story of an event that is in the past. So I made a request to my community for iPhone footage. This iPhone footage is combined with the beautiful observed photographic imagery, thanks to local cinematographers Ian McCarroll and Gareth Moon. The editor, Mike Ogle, is also a Muriwai local. My dear friend Arli Liberman composed the music.
The experience was humbling and insightful. I got to connect with my community deeply, by hearing their stories and process my own uncertainty and trauma. Once again I was reminded why Muriwai is such a special place to live and how much I love my job as a director. What an honour to witness people under such adverse circumstances, rise and find the gold in the chaos. Naturally, that infuses the way I reflect and look at the world.
I am super grateful to everyone who allowed me to film them, especially at such a delicate and stressful time.
---
In this short-form documentary series, four award-winning Kiwi filmmakers spend 72 hours in the life of devastating Cyclone Gabrielle, capturing the aftermath experienced by their own communities and themselves, from where they live, in some of the worst affected regions of the country.
Each stand-alone mini-documentary dips into the lives of people on the ground, as they take action cleaning up, rebuilding, dropping critical supplies to stranded communities and much more.
Fast-turnaround, urgent and important this short-form documentary series will reveal untold stories not seen in the headlines, told from a uniquely personal perspective. Watch the full film here.