SHOTS:

Navigating A Longer Journey with

MARIT

Weerheijm
10 August 2023
Written by
Danny Edwards, Shots
We get under the bonnet of CrossCountry's recent campaign that took in a time-sensitive shoot, a potentially hostile crowd and a first-time actor as the agency, director Marit Weerheijm and DoP take us behind the scenes of the emotive spot.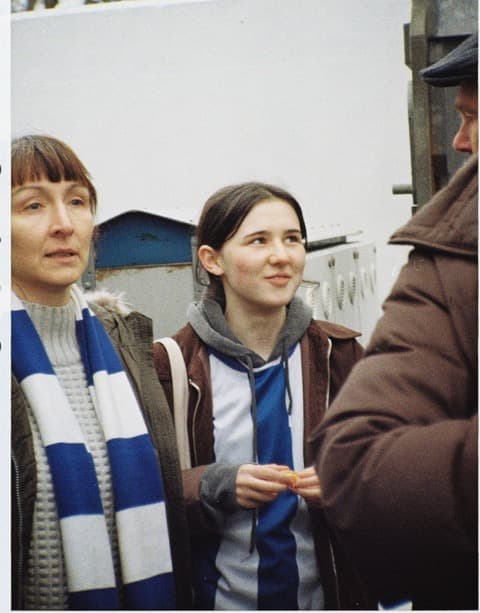 Recently train operator CrossCountry released an emotional spot that followed a mother and daughter taking a trip to a football match that turned out to be more than just another sporting fixture.
Created by McCann Birmingham and directed by Marit Weerheijm through the Sweetshop London, the 60-second film, called A Longer Journey, involved a tight turnaround, a first-time actress and an on-location shoot that included filming at a real football match that was sometimes less than welcoming to its filmmaking guests.
Below, Hannah Dale, Senior Producer at McCann Birmingham, Weerheijm, and Director of Photography Rachel Clarke take us through the challenges and rewards of creating the campaign.
You shot on location at a real football match; what were the biggest challenges involved with that process?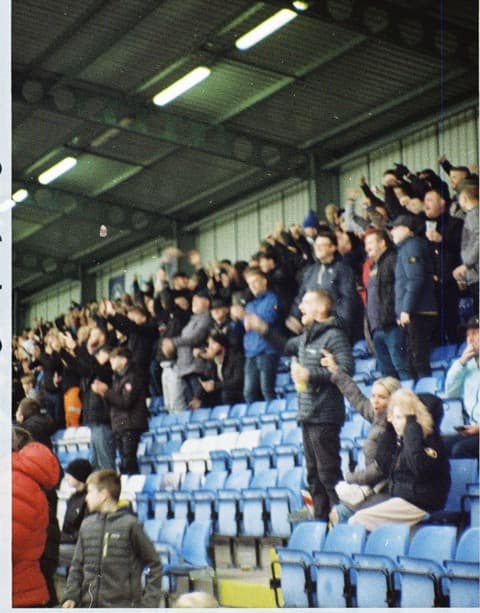 HD: We wanted to get the spirit of a football match and what that connection means to families but without getting the negative connotations involved in football. Controlling a crowd and filming the cast in a real live football crowd were challenges, but they were risks that made the film have those moments you really connect with.
MW: That was an incredibly fun day. I didn't know what to expect beforehand. We knew we had to capture certain moments and we didn't know how the real fans would react to us being there but, when we arrived, I immediately felt my adrenaline levels rising. Sometimes you get nervous to shoot a certain scene but, with this, I knew we were not 100% in control and, for some reason, that made it less intimidating.
Especially because I already had a great connection with Rachel Clarke, the DP, and we had discussed that it would be one of those guerrilla-style shoot days. Same goes for directing the actors. We had discussed their backstories, the specific looks we needed to capture and the moments I wanted to create so, when we were at the stadium, we all knew what to do. I was sitting two rows below them and yelled my directions from time to time and, luckily, our team played a very exciting match, so the actors were able to react to what was happening around them.
RC: It was a real football match. A very small, local one, not a large corporate stadium with loads of security and restrictions. It was quite rowdy at times but there's something about the unknown and out of your control that, as a DP, I thrive off. Myself and Marit had a great time freestyling and riffing off the energy in the stadium. That kind of environment doesn't scare me. I found it funny more than intimidating. It's nice to just use your instincts in a situation like that, where you have to trust your gut, adapt and just get the best footage you can.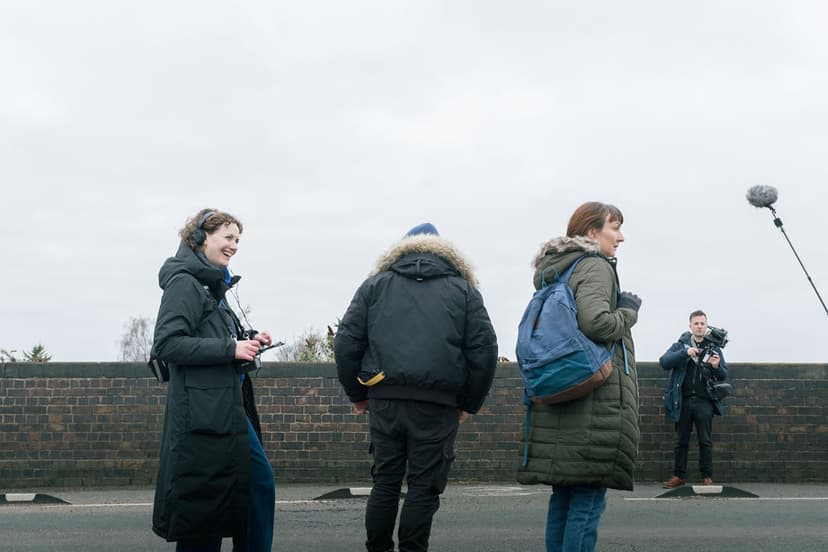 Can you tell us a little bit about the actors and the casting; why were these actors right?

HD: Authenticity was key for us, We needed a genuine connection between mother and daughter, and also with our football fans and train manager. It needed to feel easy. We went through various rounds of casting and Marit spent time with the cast to get those relationships right.
MW: One of the things I loved doing for this film was my preparation with the actors. I had some time to spend with Carys and Izzy (mother and daughter) and we talked about their backstory and the relationship between their characters. They had a very natural chemistry, which really helped me on set. I wanted to shoot a lot of improvisations and the fact that they had this connection was incredibly helpful. This was actually Izzy's first shoot ever. I explained to her how everything worked and how the days would go. I think she did an amazing job, especially for a first-timer.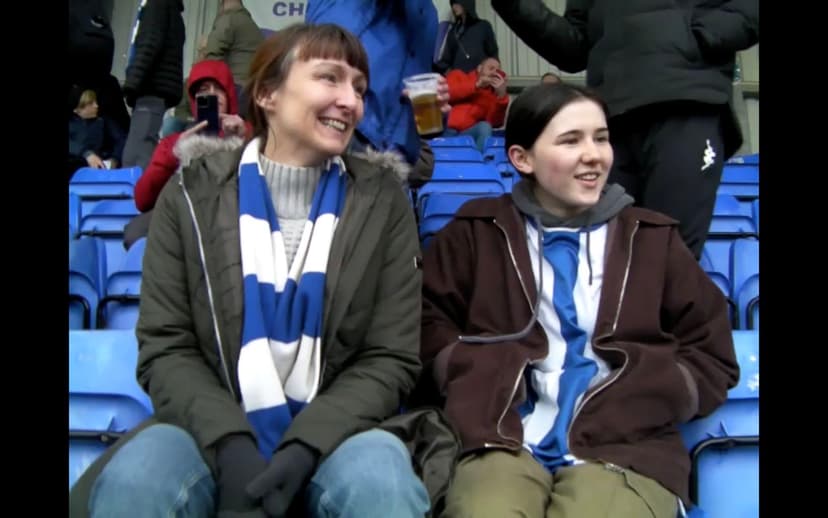 You didn't have long to shoot on the train itself; can you tell us about that challenge?
MW: A train carriage can be like a moving pressure cooker, with a very narrow aisle for a crew of 15 people trying to go from one side to the other. In those moments I try to keep a light mood and chat with the actors until the crew is ready to shoot. My main concern was the final scene, where I had to capture an emotional moment between mother and daughter. It can be difficult for an actor to perform under such pressure. When you feel there's no time to do extra takes you can feel limited in taking risks with your performance. In the end Carys and Izzy gave great performances, and I think that was mainly because they had great chemistry between them.
RC: We had a very small window of time for the train to pull up at the station. In this 5-10 mins all the kit had to be loaded on, the crew had to get aboard and we also had to shoot the actors jumping on the train themselves. We then had quite a short time on the train to shoot the journeys both to and from the football match. Even though the timings were a bit intense we tried to keep it calm and quiet to allow our cast the space to give those performances. It was quite emotional and heartfelt stuff they were being asked to do, so we tried our best to create an environment that allowed that.
I have quite a bit of experience shooting like this, handheld in real or unrehearsed situations, in both documentary and unscripted drama. Sometimes you just have to let go of the things you can't control, because at the end of the day the performance is key - you just call on all your skills as a cinematographer and trust your gut to get the best images you can.
HD: Prep and a reality check of what we had to do, we all knew we didn't have long so it was about prioritising the scenes on the train to really stand out for what this film was about; a journey.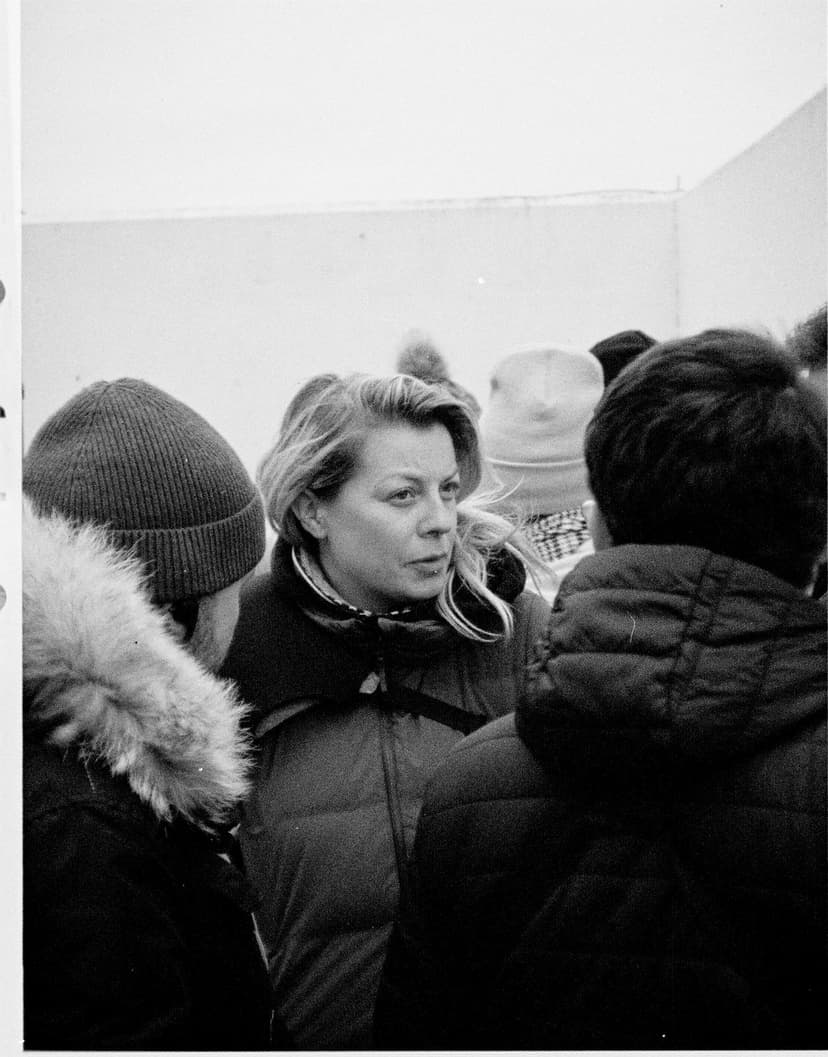 The Sweetshop operates a 50% under-represented crew on their shoots; why did you choose to action this and what does it bring to each project?
MW: It was definitely beneficial to have a female led crew on this day. Many male supporters felt it was their right to express their feelings about us being there and, unfortunately, not always in the most subtle ways. But I think they were mostly doing it to show off to their friends, rather than really being aggressive towards us. If we'd had been a male-led crew it might have been different. And, I must say, there were also a lot of lovely supporters who we connected with. People who were genuinely interested in what we were doing.
What was the most challenging part of this project?
HD: The logistics!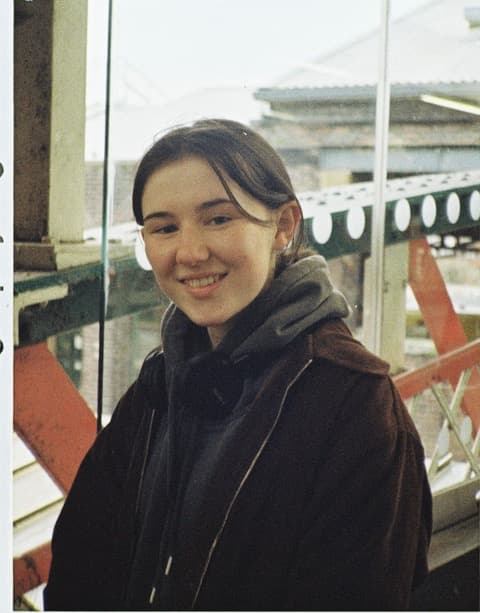 And the most rewarding?
HD: Seeing the film. We are all so very proud of it, it really was a labour of love and it comes across as a really genuine, beautiful piece of work that cuts through the rest of the slightly saccharine advertising.
MW: I'm not exaggerating when I say I loved the whole process. I was immediately excited when I read the story, I loved working on the script and treatment and everything after that. I felt that the agency and I were on the same page throughout the entire collaboration. If I would have to choose, I'd say that the casting process and working with the actors was one of my highlights. I was very happy with my two main actors. The other highlight would definitely be our shoot during a real football match.
RC: I really enjoyed working with Marit. This was the first time we'd worked together and we hit it off straight away. We're both drawn to the same sorts of storytelling so it just felt really natural to collaborate together. We're both drawn towards human stories, real people and real places. It felt like we were in sync, so the work came really naturally and it was a lot of fun to do it together in these real environments with real people.
This article was originally published on Shots, 6 July 2023.