How

KATE

Halpin Found a Little Piece of Italy in the Middle of Australia
16 August 2023
Written by
LBB Onine for Behind the Work
Kate Halpin, director, Kieran Fowler, DOP & Arabella Lockheart, production designer of Sweetshop give LBB a behind-the-scenes look at their latest spot for Leggo's.
Aussies have always been known for their strange food combination. Dunking Maccas fries into a soft serve, beetroot on burgers, and perhaps the most popular of all, the parmi.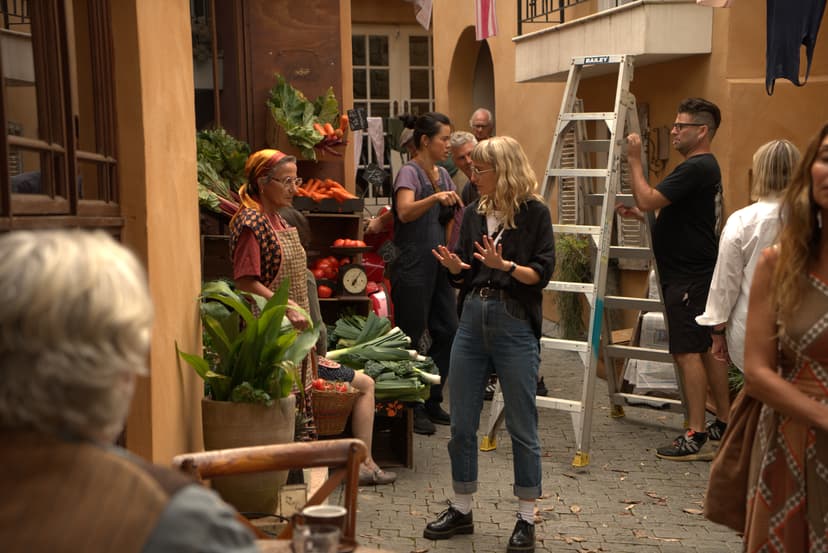 The parmi: chicken schnitzel, ham, tomato sauce, and cheese. It's a dish that gets passed off as an "Italian" at pubs across the nation.
Eating these glorious national dishes is a right of passage for any Aussie and with the help of Sweetshop, and the tagline, "How We Do Italian", Leggo's have taken the stance to encourage freedom in the kitchen.
Director Kate Halpin, DOP Kieran Fowler, and Sweetshop production designer Arabella Lockheart share a behind the scenes look into the incredibly creative spot for Leggo's.
LBB> What was your initial thought upon receiving the brief for this job?
Kate> My first thought was 'Italian food and blasphemy'... I'm in! Followed quickly by the realisation that I was uniquely qualified for the job since I had once called the cobbled streets of Italy home. I'm like a resident expert in the cardinal sins against Italian cuisine - call me the Patron Saint of Pasta Fails!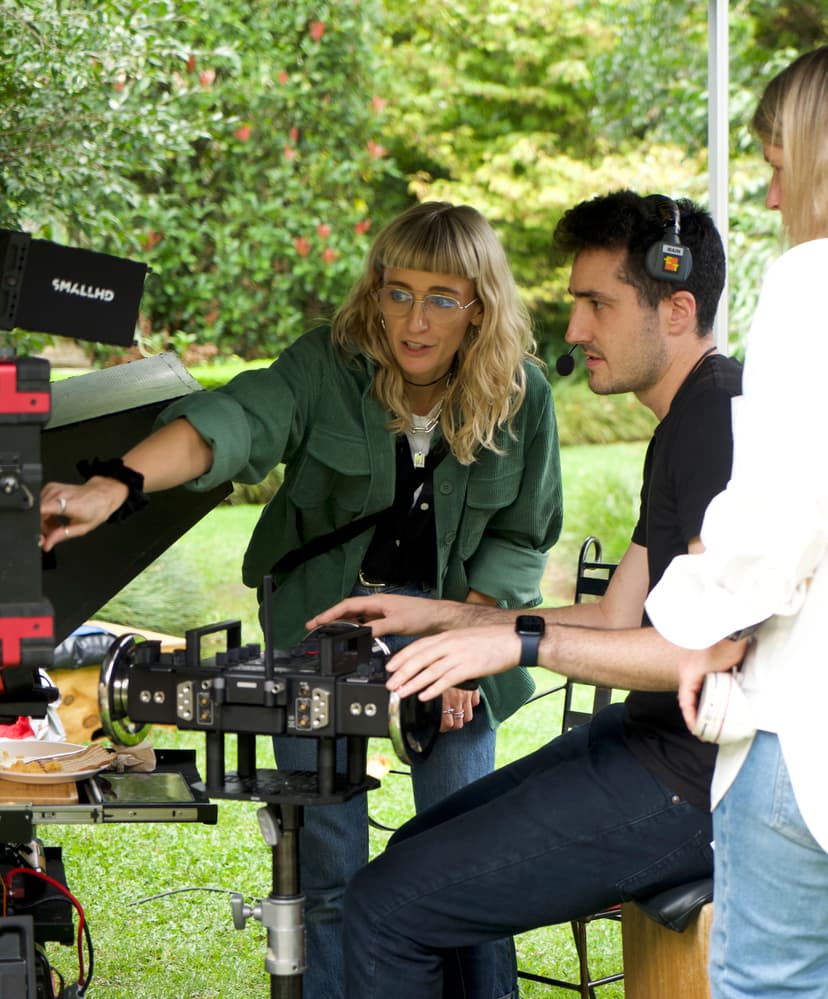 Arabella> My Initial thought was one of excitement, and I couldn't wait to get my teeth stuck into this one! It's not often in commercials that we get to tell a story like in film or to develop a character or rich location.
LBB> What was a challenge that you faced in the creation of this spot – how did you overcome it?
Kate> The first challenge was casting our Italian roles. We needed to find three actors in Sydney who had comedy chops, and could speak fluent Italian. Ordinarily, I would have been pretty nervous, but we had the incredible Danny Long and her A-team on the job, and they went above and beyond, and in the end we were spoilt for choice. We did street casting for our Nonna role, and ended up casting a retired lawyer who had never been in front of the camera - she was a natural.
The other big challenge was that we needed to cheat three separate and distinct kitchens in a single home. We found a kitchen that ticked the boxes in terms of space/size, windows and textures (side note: I'm allergic to all white kitchens), and we then set out to achieve it utilising a clever art department approach, and by being considered with our angles and lensing.
Kieran> My biggest challenge was the amount of technical shots we need to achieve in a short amount of time. We had a range of cameras, formats, rigs and lighting scenarios that made it more tricky than most projects. There was Phantom high speed , crane work, dolly with large fast push in's, cameras on roll rigs and other situations to do in a short amount of time. We just made sure we spent the time in pre to work out our best approach and shooting order to make this all work, I'm a big advocate of getting on the directors recce on these kinds of jobs, as it helps me work everything out with the director without having a crew standing there waiting for answers on a tech recce.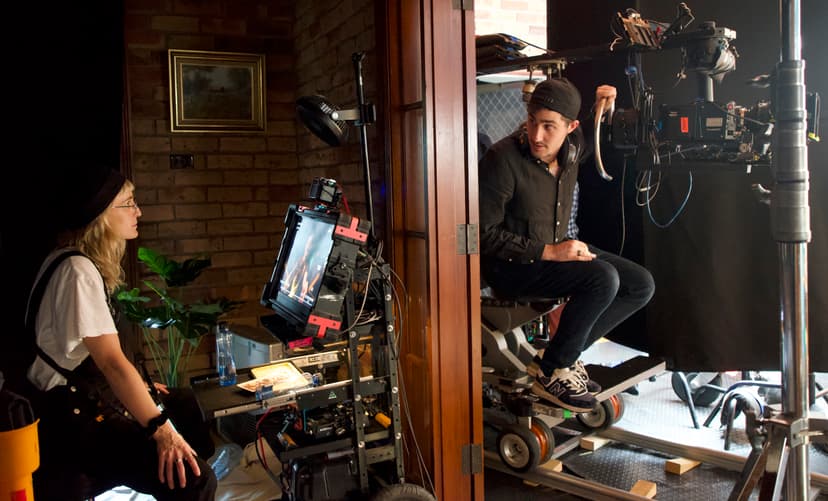 Arabella> Most importantly the biggest challenge is that the client, ie, agency and Leggos will approve the right location. One with good bones, that as soon as you enter the environment you can see that it can work for the story. The light, the architecture and colours can be moulded into something you're trying to tell, that it is believable.
Otherwise, you may as well build a set in a studio and start from scratch. It's never quite the same though, as starting from scratch is never like the real thing. Fortunately, the clients believed in all locations found.
Budget is of course very important too. The more you have the more you can play with to get perfection. It's extremely challenging if you don't have enough money to add the detail. Sometimes we have to make things in Australia that you can simply buy overseas as you just can't find them here and that costs money and becomes very challenging.
LBB> Is there a trick to making Sydney look like Italy?
Kate> We knew it was going to take more than throwing in a vespa and a shot of espresso to turn Sydney into Sicily. In this case, it was all about pairing strong locations with killer art direction. We got very lucky when we found a B&B near Dural called Guestlands, where they have built a small cobblestone Italian street - which looks like it's straight out of a Fellini film.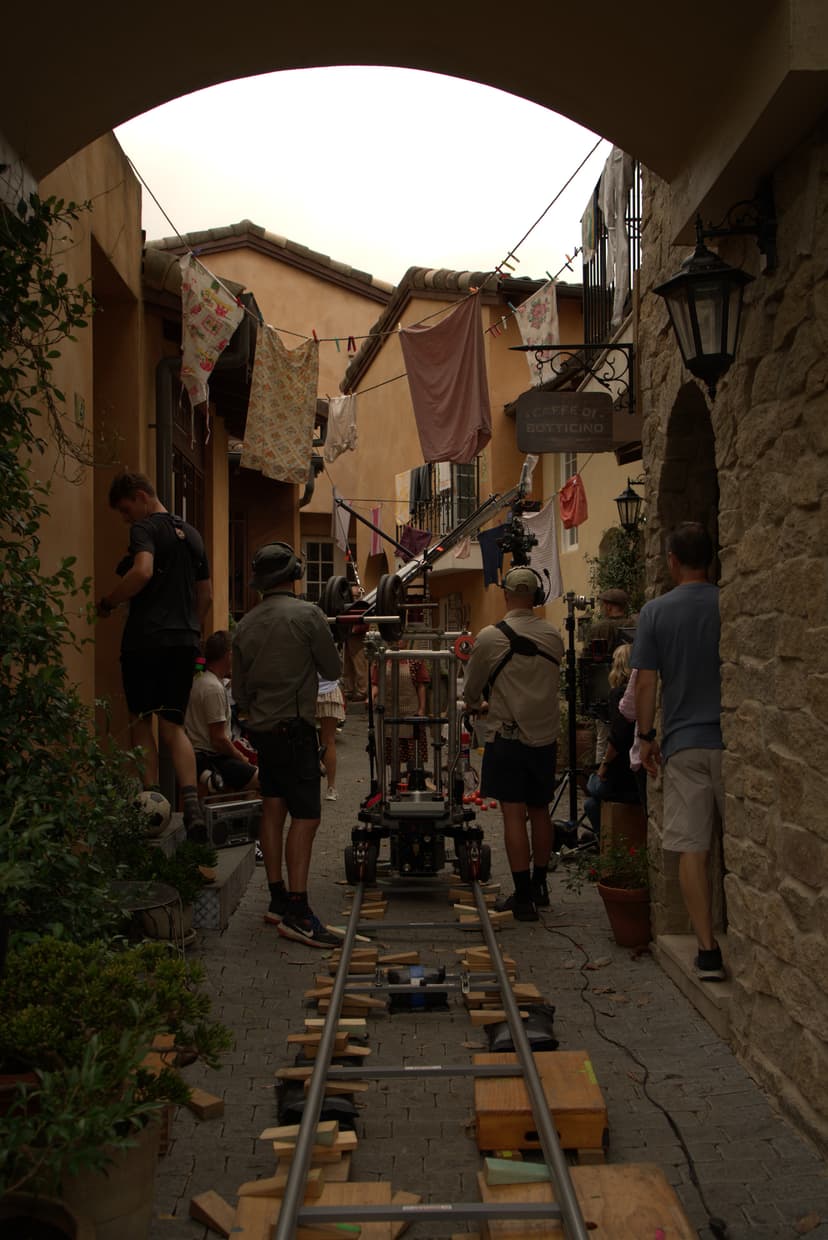 For the biggest scene with Nonna we wanted to populate the space with as many Italian details and signs of life as possible. It's a picturesque location, so we tried to make it less 'postcard perfect' by adding authentic 'messy' elements; like the washing lines, the fruit market and Italian signage. We also wanted to avoid anything too overtly clichéd like the red and white tablecloths, as these feel touristy and more like a foreigner's take on Italy. Then our dream team of HODS; Kieran Fowler (DP), Arabella Lockhart (PD) and Laura Bracken (stylist) all worked their respective magic.
Kieran> It helps when you have a location in Sydney that looks exactly like a little Italian street and also when you have a great production designer like Arabella and Kate's attentive eye for detail. Kate also lived in Italy for a while and I visited Italy fairly recently on a holiday, so maybe having the aesthetic of the country in our minds was helpful.
Arabella> The hardest thing about making Sydney look like Italy is the fact that we are such a young country comparatively. So therefore we don't get the lovely worn cobblestone streets, ageing patina in the paint work on buildings and general history and architecture found in Italy and Europe. We can always reproduce this with a clever scenic and construction team and pepper it with Italian props and extras to make it believable.
LBB> What was your approach in creating contrast between the Australian and Italian sides of the story?
Kate> We set out to juxtapose traditional Italy with modern Australia by crafting two distinctive worlds - and played by a different set of rules for each.
We wanted the Italian locations and characters to have an 'old-world European' feel to pay homage to Italy's rich history and food culture. With our opening scene with Nonna in particular, we approached it like classic Italian melodrama and neorealism, with warm, natural lighting and slow, considered pacing. We wanted to satirise a scene from a classic like La Dolce Vita or The Bicycle Thief, so that we could lean into the clichês and tropes, and create a sense of misdirection - so that you feel an unexpected shift when transitioning into the more vibrant, and dynamic world of Australia.
From our first Aussie scene onwards we employed a more heightened approach. The camera suddenly picks up speed and momentum with fast-paced tracking shots, coupled with hyper slow motion shots of our empowered Aussie rule breakers with deadpan performances. We also introduced wide-angle lenses, more stylised and contemporary lighting and art direction, and a broader and more saturated colour palette.
Kieran> We wanted the opening of Italy to feel more restrained in comparison to the bolder camera moves and vibrancy of colours in Australia, we wanted Australia to have a more modern upbeat feel and Italy to feel more classical. For Italy we chose a more harmonious palette of warm tones, yellow, oranges and reds with any greens feeling a little more subdued in comparison to Australia's brighter primary colours. I have memories of Sicily feeling quite warm and dusty, so I think I was tapping into that on a subliminal level.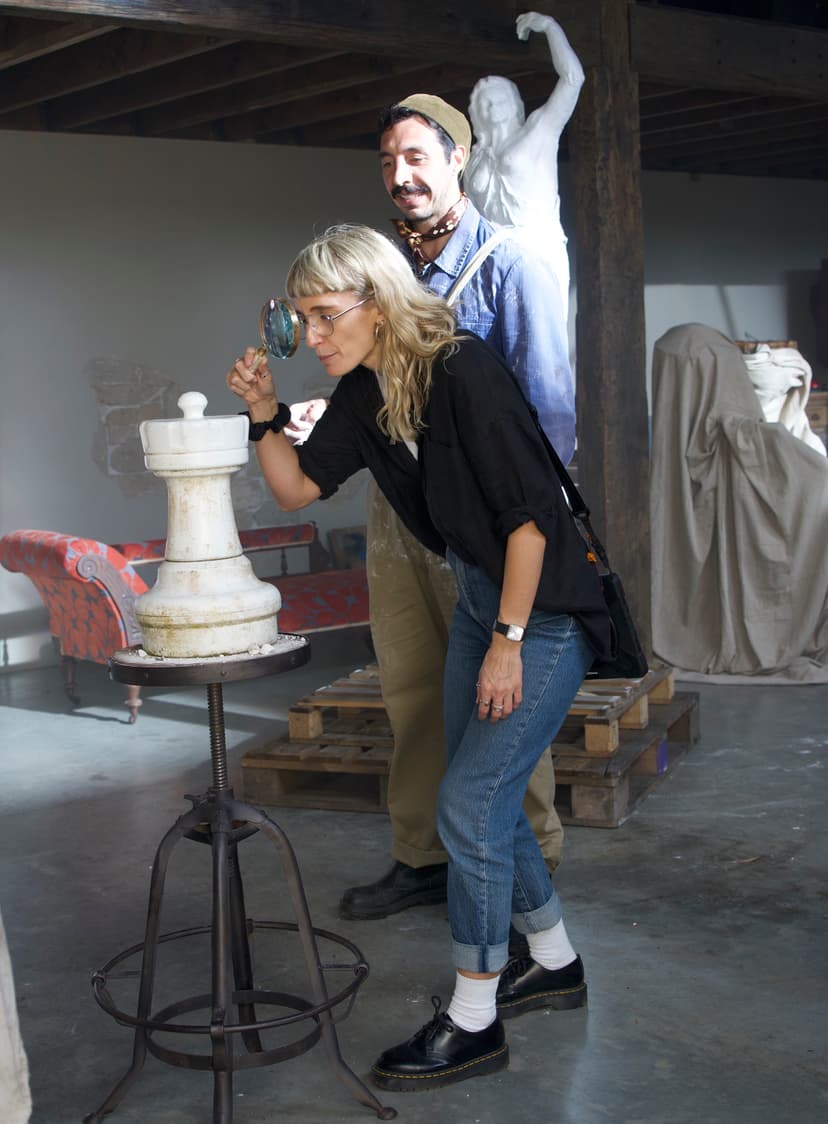 Arabella> For Italy the director Kate Halpin and I went with ageing and a vintage feel, weathered streets, history, and subtle colours. Propping with vespas and vintage objects that really sung Italy. Old fruit markets with wooden boxes and handwritten signs, European cafes, worn outdoor mats, hanging washing, mops, and buckets. We wanted to add a little bit of real life ugliness mixed in with humble flower markets, beauty and history. It's important to mix old and new, beauty and ugliness otherwise it all looks to clean and perfect. Just like a new safe tourist reproduction of Italy. You need grunge and dirt to make it believable.
For Australia it was important to have contrast, poppy bright colours, Australian kitchen props. Magpie tea towels hanging on the oven, a kangaroo pot plant, modern cheese graters and bowls. Shiny utensils, modern appliances, shiny knives, and forks, modern Leggos packaging. New and clean, bright, young, and poppy. Very different to historical Italy.
LBB> There are so many fun sets/ locations in this spot, which is your favourite and why?
Kate> Our fabulous production designer Arabella Lockhart nailed the brief for each location, so it's a tricky one. But I think my top two are Nonna's village and the sculptor's studio - as they have the most scope and scale. Both locations had such amazing bones to begin with. Nonna's scene was about adding detailed clutter, texture and 'life', whereas the sculptor's studio was about keeping it reasonably minimal, having interesting shapes, and then relying on atmospheric lighting, which I think our DP (Kieran Fowler) and gaffer (Peter Sutton) absolutely nailed.
Kieran> I loved the little Italian street, it's always so great to work with amazing production design elements and texture in a location like that. It was fun creating a classical Italian aesthetic, I couldn't help but think of The Godfather or a Woody Allen film while shooting this.
Arabella> I think Italy was probably my favourite. It felt more Film like. Creating real characters for each set. I felt like we were really trying to tell a story which you don't often get to do in commercials.
The fabulously Michelangelo type sculptor, Mad Dog Italian '60s mobster sitting by his luxurious pool, cobbled stone streets of an old Italian Piazza, even the extras became props busily going abouttheir day to day business. I thoroughly enjoyed that set in every detail, whether it was going to be seen on camera or not, it all helps tell a story, one big picture for the actors to work with and the audience, it truly makes it so much more believable.
LBB> Were there any unusual sources of inspiration that you used for reference?
Kate> Aside from channelling the collective gasp of all my horrified amici (mates) back in Italy? My inspiration was pretty standard: ate a bunch of seafood marina (with cheese), blasted hours of Pavarotti, watched La Strada, and deep dived down a Michelangelo rabbit hole.
Kieran> I think subliminally I couldn't help but think of The Godfather or a Woody Allen film for the Italian section, and then there were various references Kate was showing me for Australia.
Arabella> I think the wonderful locations themselves gave us the inspiration to build what we were after. The older style kitchen which we turned into three different modern kitchens was fantastic! It's very rare to find an older style wooden kitchen these days that you can transform into whatever you want. Rather than dealing with a plain white walled fresh kitchen which really is a boring plain canvas.
The cobbled stone street and pastel coloured buildings at the Italian location was a fabulous inspiration for making Italy.
Of course, the Internet with historical pictures of Italy and interesting characters helped us a lot in building our sets. Found materials and fabrics, window treatments, old plaster sculptures, aged wooden crates, galvanised buckets, '70s umbrellas and chairs, the list goes on, were all great finds in slowly putting the pieces together for our sets.
LBB> How many packets of pasta did you go through on set?
Kate> Regrettably, countless packets of pasta were harmed in the making of this commercial.
Arabella> Hahaha, we had a home economist on set who oversaw this but as I recall I think it was about 50 or so for three dishes. We always must have extras on the side to be steaming and fresh for every take.
This article was originally published on LBB Online, 17 May 2023.