Behind the Colourful Trailblazer,


ZOE

McIntosh
Every story has a truth.

Great directors can take you right to the raw heart of it, letting it compel, captivate & live with you long after the end credits roll.

Directors like Zoë McIntosh.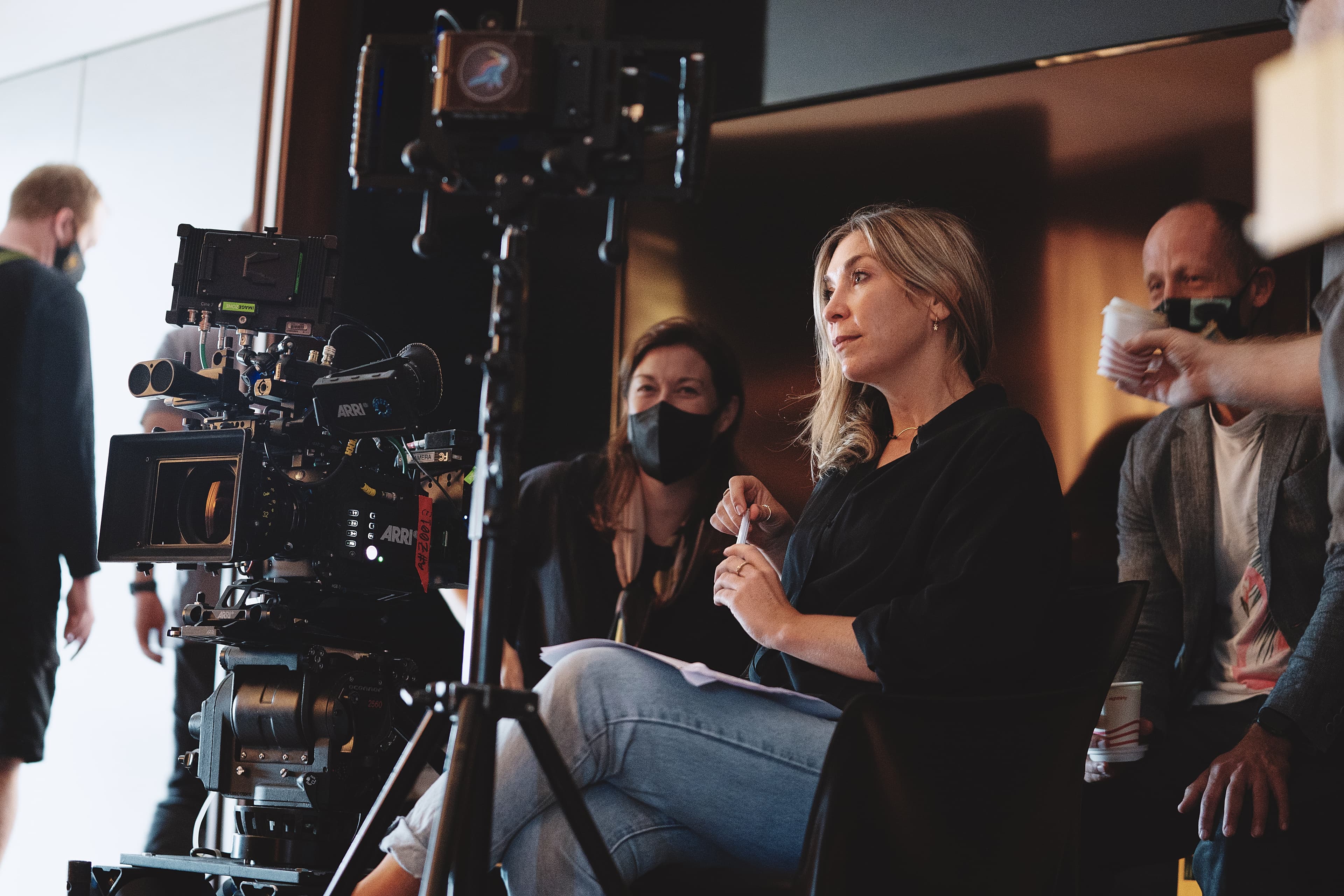 An auteur filmmaker with an uncanny gift for scouting real - and often off-kilter - characters, and revealing their raw truth with sensitivity and compassion, Zoe blazes a colourful trail with a deft blend of instincts and craft.
And nowhere is this better displayed than in her stunning new feature documentary, Stylebender. An acclaimed film set for a world premiere at the 2023 Tribeca Festival about infamous UFC champion Israel Adesanya, it outboxes convention to tell the captivating story of a tortured boy fighting against the word and his personal demons as he searches for something bigger than himself.
Completely unfamiliar with UFC and initially a 'no way', Zoe quickly changed her mind after meeting Israel in person. There was so much more to him than the infamous tough-guy fighter image; he gets French manicures, practices Krump dancing and even pays weekly visits to a therapist to deal with his thoughts and feelings.
Sensing storytelling gold in the offing, Zoe pitched the idea of filming Israel's therapy sessions. Israel readily agreed and the project took off in a big way. Cut to a caravan plonked in a paddock in rural New Zealand. It's the office of Israel's 70-year-old therapist, Janet Redmond, whose methods include physically pinning down her client if necessary.
Sometimes what's good for the talent is good for the director too. So, Zoe promptly booked herself in for a week-long retreat with Janet. A 'fruity and out-there' experience, that helped her film Israel's therapy sessions with understanding and respect - and make an outstanding documentary in the process.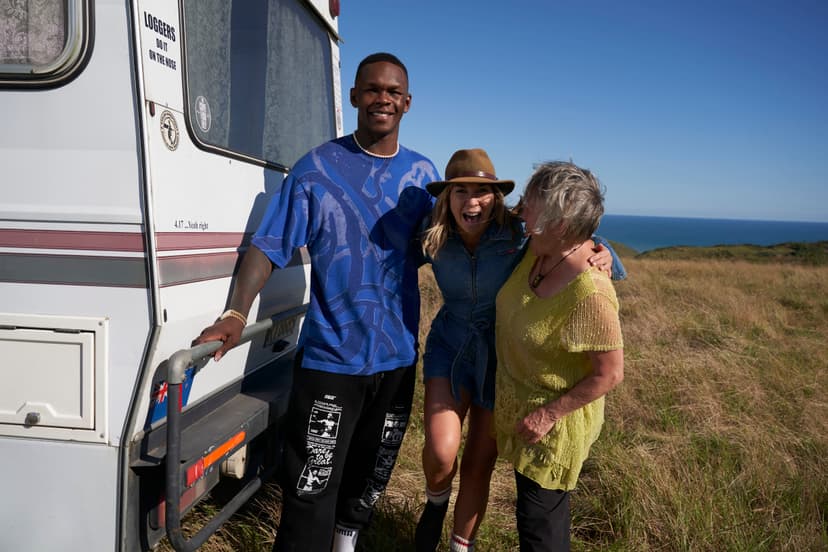 Living her craft went to a level even Zoe wasn't prepared for in her latest short film Lost and Found. It explores which objects seven residents in Zoe's local community of Muriwai took with them as they fled their homes in the midst of Cyclone Gabrielle, and how the disaster made them re-evaluate the meaning of possessions. It's an ingeniously simple concept, perfect for the medium, yet the insights it draws are quite profound and go a long way to making sense of the loss for everyone, including Zoe herself.
In both commercial & fictional projects, Zoë's
passion for authenticity
is unwavering, & her ideas
resonate
with truth & real-world nuance.
From her Kiwiplates commercial infused with memories of her own 90s skating rink 'crush encounters' to her current film in development about a woman bullfighter and back to 2017 when she made the multi-award-winning short film The World In Your Window about a depressed father and his lively young son living in a caravan park.
Truth is big for Zoe too, no matter how uncomfortable. Nothing is too weird, zany, dark or emotional for her. She'll yarn, delve, hang on every word and even step into your shoes, with a genuine lack of judgement too. Vulnerable souls open up to her and she never lets them down.
Just a few of the qualities that have seen her captivate and enlighten audiences many times over and create a formidable list of award-winning films, documentaries and commercials. It would be a grey and narrow world without Zoe McIntosh. She has achieved so much and she's only just getting started.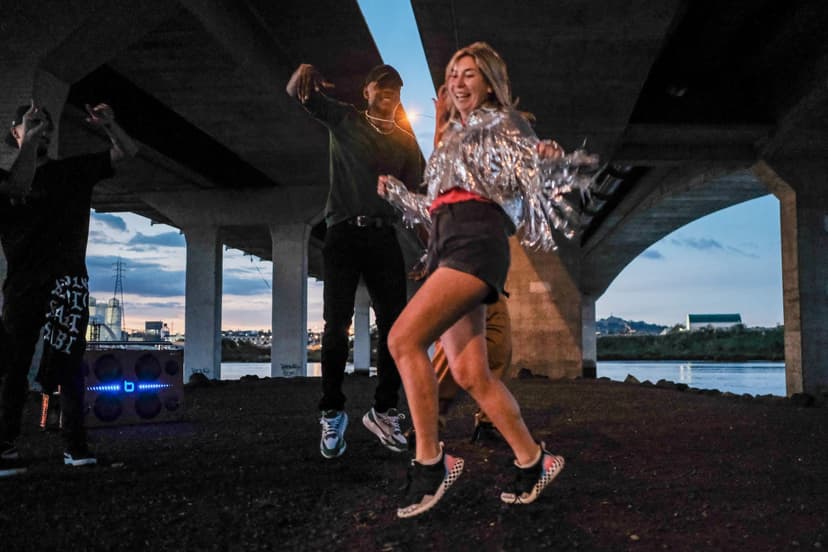 It's amazing how early experiences shape us.
This was certainly true for Zoë McIntosh. Her love of offbeat and well-told stories was nurtured by an imaginative Māori friend of her family who made up wild and outlandish based on the many tattoos covering his body.
Then, at around seven years old, magical hitchhiking adventures entered the frame. Out went Zoë's thumb (it was pretty safe in those days) and she soon found herself riding around with all manner of interesting characters. Their cars felt like mobile confessional booths and drivers seemed to easily tell her all kinds of stuff, from the daily happenings in their lives to marriage break-ups to the time they got caught shoplifting.
It was through hitchhiking with a friend that Zoë heard the tale of
identical twin
sister truck drivers known as the
Golden Girls
who were said to be
lingerie models
too.
So, with $5 to their names and carrying a TRUCKS ONLY sign, Zoë and her friend set off in search of the mythical twins, asking every truckie they met. Unbelievably, it worked and before long they met the Golden Girls in the flesh.
But, alas, the tales turned out to be bigger than the truth. The Golden Girls weren't lingerie models at all. They recalled snapping a few photos of themselves in their undies, but that was it. An unsatisfying result, indeed. But it didn't deter Zoë.
Anyone who works with Zoë will tell you she has a ceaseless gift for scouting out-of-whack characters from the edges of society.
But her true magic lies in her ability to go
beyond their oddness
. Zoë heroes the emotional layers that
feed the eccentricities
or troubled aspects of her characters &
excavates
to reveal the
beauty & pathos
within.
Perspectives that help the rest of us to see others with new eyes, and to love them even if at first glance we feel afraid or repelled.
If that all sounds a bit serious, think again. In person, Zoë lights up a room like a solar flare. Once described as a glitter ball of energy, laughter and cheekiness, she literally radiates light. A happy citizen of her beloved Muriwai coastal community, she donates time and energy as a volunteer firefighter. Or you might even find her at the beach surfing, kiteboarding or spearfishing.  Ready to jump outside her comfort zone at the drop of a hat, Zoë is a deeply inquisitive seeker of connection who is able to find it where others simply can't.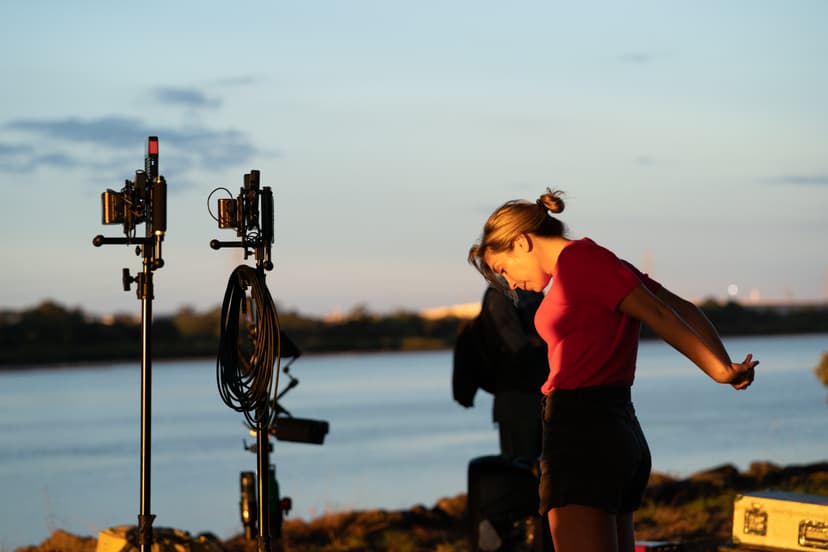 As she will happily tell you, Zoë is a happy, lucky woman who can go from longing for alone time to a burning need for discovering unusual characters that rest in sharp contrast to her own life. So if you're a one-legged salsa dancer living in South America, watch out. If Zoë hears about you, there's a good chance she'll be winging her way to you on a plane any day now.
And for the record, that's exactly what she did.