KATE HALPIN: An Unconventional Background
23 August 2023
Written by
Candide McDonald for The Stable
Kate Halpin is a director with an unconventional career background that gives her work a vibrant difference & a broad range that runs from quirky stylised comedy to dark, gritty drama.

The Stable explored what makes Halpin stand out among Aussie directors.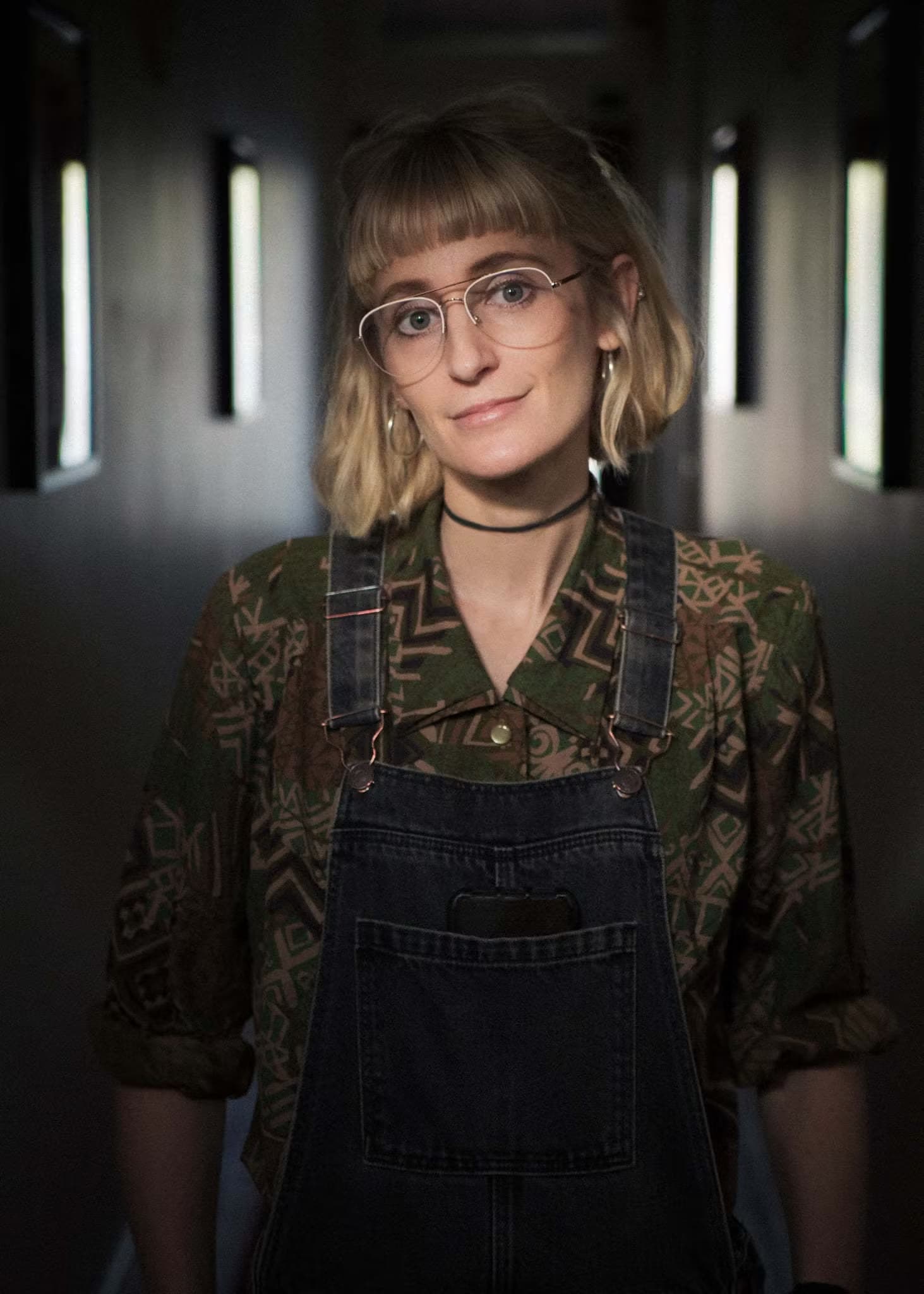 The Stable: You started off as an actor and a production designer. Does that still colour your work?
Kate Halpin: My background as a production design colours my work quite literally. I've always been pretty fastidious about colour palettes. Choosing a precise colour combination to make a film, commercial or campaign feel cohesive and distinctive, never gets old for me. I get my kicks in weird ways. I love using production design to help create subtext, shape the world of the characters, or give small insights into their personality – it all helps to paint a more detailed picture.
Studying and breaking down so many scripts as an actor gave me a greater understanding and appreciation into the nuance of dialogue and character arcs.
My training as an actor also taught me the vocabulary to use when communicating with actors, which has proved to be pretty invaluable.
The other benefit I find is that I have a greater level of empathy for how uncomfortable the process can be as an actor. Whether it's in the casting room, or on set, I always try to make actors feel as relaxed and safe as possible – and that's when they tend to create the best work. I can see when an actor is nervous, stuck in their head or beating themselves up. There's a very small window of opportunity to get them out of this mindset and back to trusting their instincts before you're fighting a losing battle.
TS: How and why did you move into directing? Achievements and struggles along the way?
KH: When I started navigating my way as an actor, I quickly became far more interested in what the crew was doing behind the camera. The composition, the lighting – it all fascinated me. I had always been a film nerd and was constantly watching the BTS or director's commentary of films. I had a long-standing passion for performance, writing, photography and set design, and I suddenly realised there was a way I could combine all of these passions. In retrospect, I don't know why it took me so f*#king long to join the dots.
It sounds trite, but I had my "lightbulb" moment when I was working at Christine King Casting and watched Jessica Hobbs direct an actor for the mini-series, Devil's Dust. Between the actor's two takes, she took the time to discuss the character's internal struggle and the subtext within the scene. The difference in the performance was incredible. I applied to film school that night and have never looked back – thanks Hobbs.
Picking up an ADG award and my short films winning awards on the international festival circuit felt like nice, little wins.
But breaking into the commercial industry probably feels like my biggest achievement to date.
I think most aspiring directors struggle with the conundrum of trying to build a commercial reel with little to no budget or resources. I always tried to overcome this hurdle by using production design and wardrobe to give projects a distinctive look and feel and hoped this would heighten the production value to some degree. I also focused on getting solid performances – and worked with lots of generous and talented cast and crew.
TS: "Understated stylised comedy" and "dark, gritty drama" are poles apart. Are there commonalities for you? What is it about each that draws you to them?
KH: They are certainly polar opposites on the surface but for me, the commonality is ensuring you have truth and stakes. This feels obvious for drama, but it is equally crucial for comedy. You can't have the comedic payoff without first building tension and some kind of risk or hurdle for the protagonist, so the fundamental "rules" are the same. I generally find the more truthful the stakes and performance, the funnier the comedy. Perhaps not LOL, thigh-slapping comedy, but humour that resonates because it's ingrained in truth.
I have always gravitated towards human drama and films or campaigns which affect me deeply or have confronted me to question certain belief systems. So, I suppose I enjoy the challenge of setting out to create work that might do the same for others.
On the flip side, comedy is bloody good fun. In some ways, it's actually harder than drama & can be less forgiving. So much of it is in the timing, rhythm & tone.
If you're off by the smallest beat, the whole thing can fall flat. I find exploring this delicate relationship keeps me on my toes. I also love blurring the lines between genres; black comedy and dramedy are two of my favourite genres and feel the most truthful to real life – nothing is black or white.
TS: What is it about performance and casting that is important to you?
KH: There's a saying that 90% of directing is in casting. I think there's a degree of accuracy to it. There are so many facets to what makes a good film or commercial; from camera movement and composition, to sound design and the score, just to name a few. But if the audience doesn't believe or engage with the actor's performance, everything else becomes somewhat redundant.
That's not to say I don't put as much consideration or energy into the other areas, because they all play a crucial role and have an interconnected relationship to one another. But ultimately, it's hard to tell a story that resonates if the character or performance doesn't feel truthful.
TS: Which three pieces of your work do you think are particularly "you" or are special to you?
KH: A Private Matter was a 20-minute short film that I wrote, directed, produced and edited while I was at film school. The film explores homophobia and toxic masculinity in a rural community. While it's set in Australia, I actually wrote the first draft when I was living in a village in Italy. The region was very insular and Catholic and had what we called a "mentalità ristretta" (restricted mentality). I was horrified to see what some of my friends went through when they "came out" to their families. The first draft was actually a black comedy (my friend's mum told her; "it's normal to be terrified of the penis, but you will learn to love it"). I didn't know whether to laugh or cry. But the tone organically shifted to dark drama.
The film is pretty flawed, and I would do many things differently if I made it again now, but the themes I explored are very important to me. I still receive emails and messages from people in the LGBTQI+ community from all over the world telling me how much the film meant to them. So, while the film is far from "perfect", it holds a special place in my heart.
Wrong Track was one of nine commercials I directed as part of a campaign for RAA. The commercials are predominately dialogue-driven, two-handers – and I can't tell you how much I enjoyed directing dialogue again. After a few years of mostly directing montages with VO and music, it was such a thrill to flex that muscle again. We shot this particular spot in Dunedin in NZ and cheated it for France, which I feel we mostly got away with. NZ is such a stunning place to shoot and the scenic train trip wasn't too shabby either.
Headcheck was a low-budget music video for The Million which was essentially a satire and piss-take on '70s cop shows. Complete with obligatory pornstaches, eye-patched villains, an egomaniac director, an enormous (teddy bear) mafia boss – and lots of daggy dancing. There's no shortage of crash zooms or retro transitions. It was silly amounts of fun to parody a genre with so many tropes – and it was liberating to work on something without taking it too seriously. This one was full of shenanigans and pure joyfulness to direct!
TS: What drew you to Sweetshop? What would you most like to come of it?
KH: I've admired Sweetshop's versatility and calibre of work for a long time. I've lost count how many times I've referenced their work in my treatments. Needless to say, I was a big fan. They also recently partnered with an Israeli Production Company to form Sweetshop & Green in order to produce feature films and Television, which is a huge drawcard. Not to mention, they also happen to be an awesome bunch of humans, with no arseholes in sight – and that counts for a lot. So, when they reached out about joining the team, it was a no-brainer.
I'm hoping the signing will lead to a long partnership that allows me the opportunity to grow and challenge myself as a director – and work across genres and countries. That would do me nicely.
This article was first published by The Stable on 28 September 2020.