A Journey of Doubt:

EDWARD

Berger on All Quiet on the Western Front
16 August 2023
Written by
Chris Cotonou for A Rabbit's Foot
Director Edward Berger talks making his Best Picture nominated anti-war masterpiece.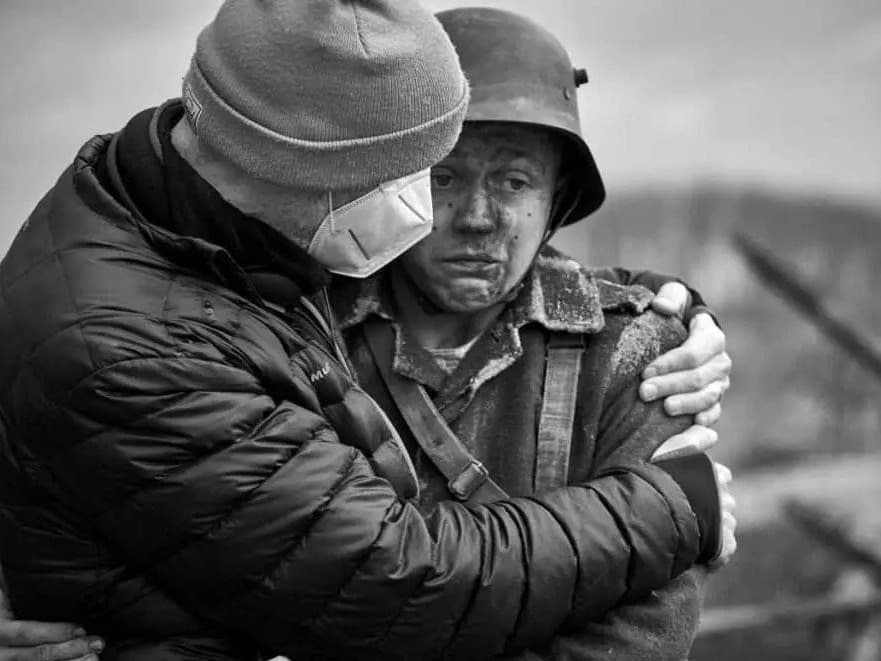 Nominated as the German entry for the Academy Awards, Edward Berger's All Quiet on the Western Front is a forerunner to win the Best International Feature Film category and potentially Best Picture. It is an adaptation of Erich Maria Remarque's classic novel about young German men on the frontline during the First World War, and as Berger explains on a crisp Boxing Day, with Ukraine still being invaded by Russia, "We never intended it to be so awfully relevant." But it resonates harshly with the world today—just as the book did in its own time—as an essential anti-war document.
Currently on Netflix, All Quiet… also offers audiences the rarely-represented German perspective of the war, fronted by a mix of newcomers and acting veterans like Daniel Brühl. Having finally shaken off the film's harrowing story, Berger is moving onto something rather quieter next—his upcoming film Conclave: a character-driven drama starring Ralph Fiennes and Isabella Rossellini. It follows a group of cardinals as they select the next Pope. With the recent news of All Quiet's… nomination, Berger sat with A Rabbit's Foot to discuss the difficult making of his anti-war masterpiece and share early details of Conclave.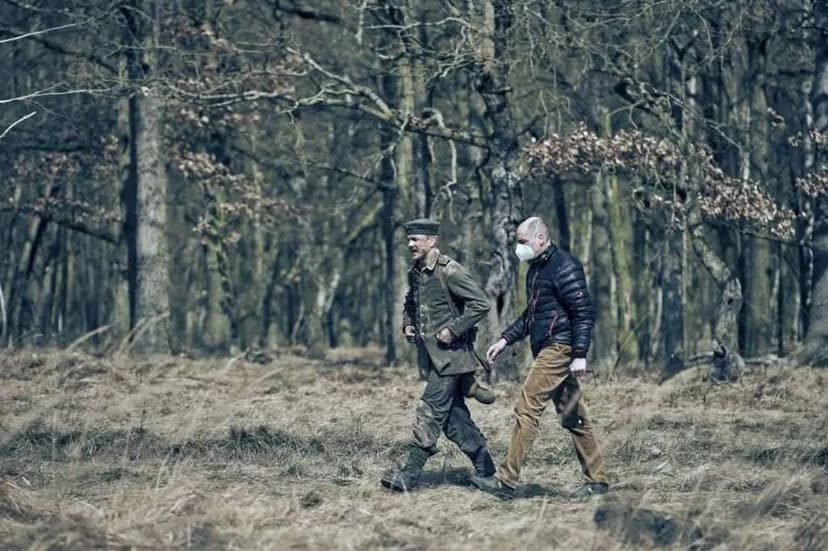 You've made some clear changes to the source material. Can you tell me why you made these decisions?
The main change was that we included the perspective of Matthias Erzberger (played by Daniel Brühl). Because the author wrote the story in the 1920s, and didn't have the knowledge of what was to come, it was basically current affairs. Erzberger is a central figure in German history. He was used as a patsy by the military to negotiate peace, but they turned on him and represented him as a backstabber. So, a legend was born about politicians betraying the military—Hitler used this as a narrative to legitimise the Second World War—and Erzberger was killed two years later. This felt like important knowledge Remarque didn't have, and after two-and-a-half-hours of watching the movie, I wanted to remind the audience this is still the beginning of what is to come. We didn't learn anything. By including Erzberger and the Armistice, it was natural to change the ending, while keeping the essence of the book, which for me is always how these kids were manipulated in participating in a war that they thought would be over in three weeks. In the end, they lost their innocence and became killing machines. That is what the movie is about for me.
What was interesting about your film is that it's a rare look at war from a German perspective. How did that motivate you when directing?
It was the main motivation. I grew up on a lot of American and British war films, and the interesting element is that you feel there is a sense of pride and honour. England and America defended themselves, they were roped into a war and rose to the occasion. In Germany, there's shame, guilt, horror and also responsibility towards that same history. I obviously grew up differently from American and British filmmakers, so hopefully it feels like a very different film and an addition to the panorama of war films, with another story and emotional reaction that is not usually seen.
Were there any visual references you used when storyboarding the film's distinct style?
That's a good question. There were three: Son of Saul [by László Nemes] because of the close perspective of being with the character at all times. The work of [director] Steve McQueen, because of his precision. His shots are sharp, like cutting with a razor blade, and that's great inspiration for a political stance. The last is an obvious one that captures the essence of war—Apocalypse Now. So those three. But I would put up all my visual references on a wall with the script pages. It included stills from Tarkovsky's Stalker, and the fog in Justin Kurzel's Macbeth.
It sounds like a precise routine. Do you see directing as a puzzle?
Totally. First you're unsure how to do it and little-by-little it comes together as a whole. It's quite a big budget film but you need to be precise with all the resources you have. After we call wrap, I'll go through the next day with the AD, cameraman, and the specific departments, because this is a complex project. Then we let that marinate overnight. And then I'll get up early—five am the latest—and I get in the car with the cameraman and we go through the day again as we drive to set, including specific shots and the storyboards…just to internalise what we're trying to achieve that day.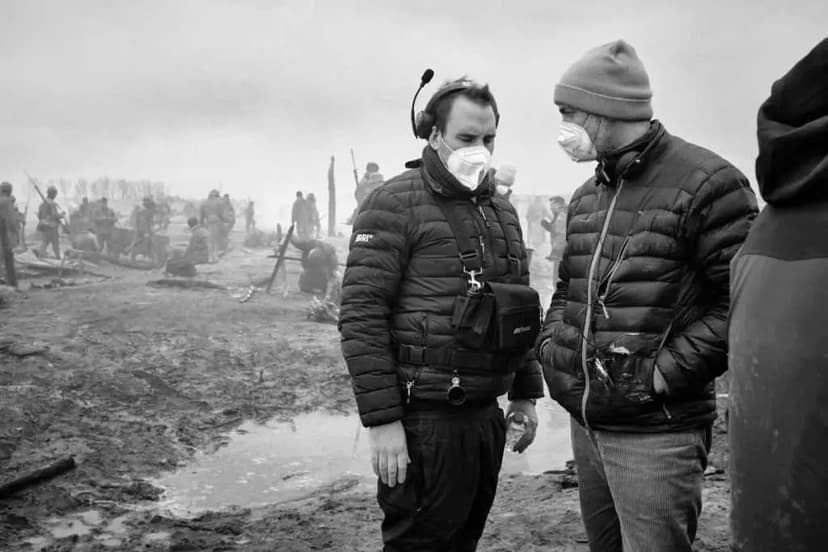 A lot of historians have praised the realism of the film, down to the costumes and battle scenes. Did you use experts to assist you with that?
Yes. I don't know a lot about the military, so we had a military advisor, as well as a historical advisor—particularly for Erzberger's scenes—for the deeper, archival materials. That's actually a very accurate account of what happened on the train at Armistice. Then our advisors explain to the actors how to carry guns, how to march, and overall feed accuracy into the film. It's not like that on every film I do, though. On Conclave, I will have a more creative licence. Here, I wanted to put the audience in the shoes of a character living the war.
I'm guessing Conclave is going to be a quieter drama. Was that a conscious choice after making a film on the scale of All Quiet on the Western Front?
Making Conclave interested me because it is the opposite. It is quiet, behind closed doors, and very dialogue heavy. In All Quiet…, the characters rarely speak. I like to change gears so Conclave felt right—as it's a journey of doubt. I'm very much driven by doubt. Questioning myself is a big part of my routine while driving home from set, and in Conclave, Ralph Fiennes' character is driven by his journey of doubt. After that, I'll want to do the opposite again. While I made All Quiet…, I wanted to press the audience in the seat for five minutes at the end, have it sink in, and maybe have them take it home with them. That was a goal. There's no music in the end because nothing fit, and it had to be 'all quiet' in a way, and while I was mixing, I thought that I want to one day make a movie where the credits roll, the lights go on, a pop song plays, and people say: 'That was really fun—let's have dinner!' [laughs]. So that's a real ambition of mine to direct something purely entertaining. I don't want to be weighed down by one singular feeling.
How do you leave behind that feeling, particularly after a film like All Quiet on the Western Front?
I felt like I couldn't just put my feet up. The first edit was three hours, and it was another moment of doubt where I thought, 'This is the worst thing I've ever done'. So I was driven by a nagging doubt whether it would be a proper movie. I still have the experience of All Quiet… in my body: the mud, immense stress, and we didn't have much money or time. It was a hard shoot for everyone. But I remember every day after the edit, I drove home and passed by a lake where we live and went for a swim for half-an-hour, and sort of washed it off. That took a couple of months before the film got out of my system. You slowly say goodbye as you edit. So by the time of the premiere in Toronto, it's not mine anymore. I remember on the plane over, I said to myself, 'You know what? I'm going to celebrate for the entire festival'. It was finished. It belongs to you [the audience] now. That's how I said goodbye.
This article was originally published on ARabbit'ss Foot, 2 February 2023.